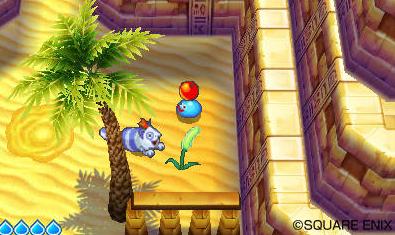 Since news broke 2 weeks ago about a new 3DS Rocket Slime, I have found myself running through the DS version all over again, just waiting for more information to come forward. Today, Square released the first set of screenshots that show that the game will take place in a whole new setting as Rocket and company head to sea.
Instead of standard tank battles like we seen in Dragon Quest Heroes: Rocket Slime, it appears that slimes will now battle it out in pirate ships, which makes perfect sense with the cannon battle set-up that the series is known for. It also appears that the visuals are more of the same as well, except for some cell-shaded 3D scenes that appear in the game. My guess is that these moments will be where you get the full 3D presentation.
Slime Mori Mori Dragon Quest 3: Daikaizoku to Shippodan or simply Rocket Slime 3 is set to hit Japan this winter. I have no clue if the U.S. will see these happy slimes cross the seas elsewhere, but I am really thinking the chances are pretty good for that happening at the moment. Check out the new screens below.