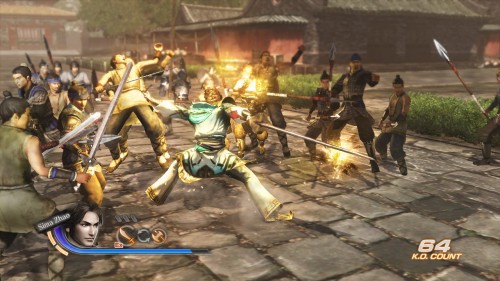 With only a mere week until Dynasty Warriors 7 hits Western shores, Koei has released some new assets that highlight some of the inner workings of the story mode.  Story mode is basically the campaign, you choose which faction you are going to place as and then proceed to play out their place in Chinese history.
In previous installments the story mode wasn't as robust as it is in Dynasty Warriors 7, often being little more than a chain of regular missions strung together while you played as one character.  Now, some story missions will have intermissions in between the battle that will develop the story a bit more and where you switch between characters mid-battle in order to give you a better "angle" on the battle and how the story is unfolding.
The story mode looks to be as intense and fun as ever, bringing siege weapons into the mix that the player will be able to operate in order to destroy set pieces like the Hulao Gate or clear some debris.
As you may have come to expect DW7 boasts quite the respectable roster, complete with 62 characters spanning 5 different factions.  The various factions are Shu, Wu, Wei, Other and Jin.  The former four have been a staple of the series, but the last one, Jin, was newly introduced with DW7.  Head on over to the official site to get a glimpse of the roster and more information dealing with some of the news talked about here.
Dynasty Warriors 7 is looking better and better with each passing week.  Just as a reminder, it hits American shores on March 29th and European shores on April 8th.  Keep a look out for more news as the release nears closer and closer.