Nintendo are giving Pokemon fans a limited time offer to meet and capture the mythical Pokemon Victini using a Liberty Pass on Pokemon Black/White.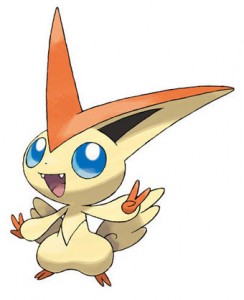 Victini is the first Psychic/Fire Pokemon, and cannot be obtained in any other way in the game. As far as we can see, it looks like a quirky little thing (notice how it's doing the peace sign?) and definitely is a must-have for anyone who wants to "catch-em-all".
Liberty Passes can be obtained by visiting Toys "R" Us, The Gamesmen, and selected EB Games stores. If you don't purchase it at one of these stores though, the Liberty Pass is also available via Nintendo's Wi-Fi Connection on your DS. The pass is only available between the the 10th of March and the 28th of April 2011, but get in quick because chances are that if you wait too long to enter your code online, you'll miss out.
For step-by-step instructions on how to obtain your Liberty Pass, and for distribution locations, visit Nintendo's official site here.