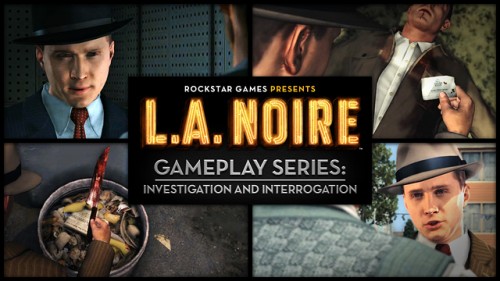 Rockstar Games has announced that the second gameplay video for their upcoming title L.A. Noire will be debuting next Wednesday. The video is called Investigation and Interrogation, so it's safe for us to assume that it will be covering the detailed aspects of playing detective Cole Phelps in this highly anticipated game.
Unlike traditional point-and-shoot action games, L.A. Noire promises a more sophisticated approach to solving crime. Players have to investigate crime scenes, find the suspects, and interrogate them. Players will choose from a series of questions, then read careful clues in the reaction of the suspect's face or body movement to determine whether or not they are lying. While it's a great concept, it really is up to this next gameplay video to showcase exactly how this system will work and what it can truly do.
The first gameplay video released for this title gave gamers a sneak peek at orientation within the game, and for your convenience you can check it out below. Check out the video Investigation and Interrogation when it debuts at noon EST on March 9th on the Rockstar site, or on the official L.A. Noire site.
If you want to find more about the game, take a look at our  All you need to know about: L.A. Noire, or Rockstar's Q&A on the game.