Rockstar's highly anticipated crime-thriller game, L.A. Noire, has made it into the official selection for the 2011 Tribeca Film Festival.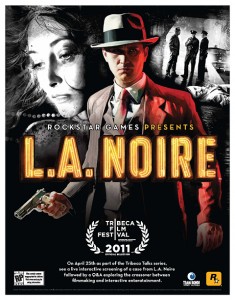 This is the first ever time a video game has been recognised by the TFF. L.A. Noire is under the "Special Event" category, and there is an exclusive preview of the game for those attending the festival at the Tribeca Talks series on Monday 25th April. The presentation not only has a live demonstration of a case in the game, but it also includes a Q&A exploring the crossover between filmmaking and interactive entertainment.
As a bit of a confessed film buff, I'm sure no one is as excited about this game as I am. Check out L.A. Noire's page here for the Tribeca Film Festival, and stay tuned for more updates about this awesome, awesome game…yeah, I'm that excited.