Excited for the impending release of Duke Nukem Forever? Of course you are. That much should be obvious. With the long awaited return of the undisputed King of ass kicking, gamers far and wide have taken to countless video game retailer outlets, hoping to pre-order themselves their own little slice of the action. Any self-respecting gamer will understand how HUGE this release is going to be, particularly for fans and collectors who have suffered for 12, Duke-less years waiting for this. However, ordering in the Balls of Steel Collectors edition will soon be an impossible task, with order limits already being hit worldwide.
That said fans of the series that are still determined to grab themselves some form of collector memorabilia for the Duke Nukem release have another option available. EB Games Australia has recently announced the addition of the Duke Nukem "King" edition, for those fans who still want to be able to obtain Duke Nukem collectible merchandise. Enclosed in this sweet little package includes the exclusive bonuses that can be seen below: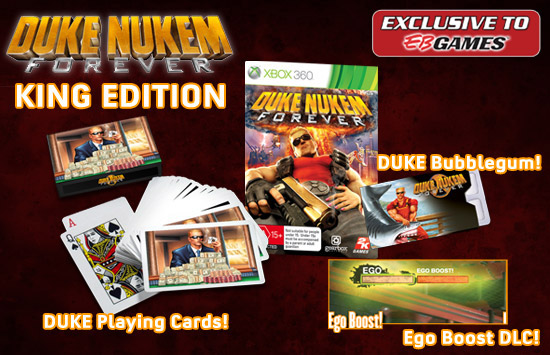 The limited edition 'King' edition Duke Nukem Forever game.
A limited edition pack of Duke Nukem Bubblegum. So now YOU can kick ass while chewing bubblegum.
A set of Duke theme playing cards (The same kind that Duke typically uses in his favourite casinos.)
The "Ego-Boost" DLC which increases Duke's in game health 2-fold.
Additional bonus costume DLC for Duke to be worn in-game.
And, you NOW it's likely that there are a few hardcore fans that won't even OPEN that gum… Regardless, it's an impressive little package, and is available as an EXCLUSIVE to Australian customers who order from EB. Now, while the bonuses are nowhere near as extensive as those of the BoS edition, the King edition is currently being run for the same price as the stock standard edition, which means that the enclosed bonuses are essentially free for customers that pre-order well enough ahead of May 6. If you missed out on the Balls of Steel edition, then make sure you don't miss this one!
Best get the orders in ASAP, and get ready to hail to the King baby.