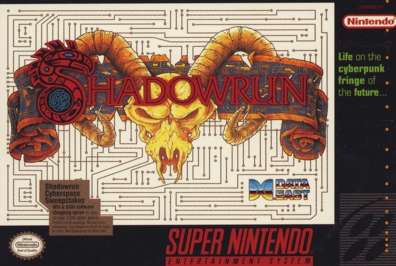 Upon scrolling through the internets I happened upon a video. A cool video. A cheesy video. An early 90s/ late 80s sensation in the form of Shadowrun.
Yes, Shadowrun; the tabletop game/SNES adaptation had a commercial which is quite entertaining to look back with our modern standards. Did it withstand the test of time? No. Is it awesome? Yes, yes it is.
Shadowrun is a tabletop RPG that was conceived in the mid-80s and is set in a futuristic cyber-punk setting.  In this setting corporations control vast armies and try to control the lives of their employees. In this world, humans either devolve into standard fantasy creatures, or are born in that way. For example, a de-evolution would be a goblin, whereas a standard birth would be an elf.
In the early 90s the game was adapted into a RPG on several consoles including the Super Nintendo Entertainment System and the Sega MegaDrive/Genesis. The games slightly changed the way the game was played to better suit the nature of the consoles but the core world/setting usually remained the same.
Below is the trailer for your enjoyment.