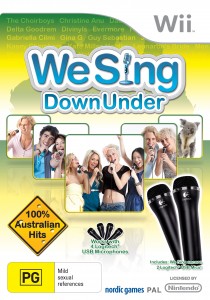 Nordic Games, creators of the 'We Sing' line of games has announced today that it is expanding the brand by bringing two territory-specific We Sing games to both Australia and Germany, planned to be the first of many new country specific editions. They hope that, as all the tracks are hand-picked locally, it will ensure each game has an authentic vibe and is more appealing to residents of that country as it is from their home-grown musicians, bands and artists.
The Australian version is called 'We Sing Down Under' and aims to give a 'pub rock' feel to get everyone singing along, featuring tracks like Rolf Harris "Tie Me Kangaroo Down", Gina G "(Ooh Ah) Just A Little Bit", Natalie Imbruglia "Torn", The Divinyls "I Touch Myself", Men At Work "Down Under" and Olivia Newton-John "Physical". As one of the countries biggest musical exports and given the Karaoke nature of some of her songs, you would expect Kylie Minogue to make an appearance, although her inclusion has yet to be confirmed.
The other title which will be releasing in Germany is We Sing Deutsche Hits which offers German classics which weren't popular outside of the region. The top five We Sing Deutsche Hits tracks are: Die Fantastischen Vier "Gebt Uns Ruhig Die Schuld", Unheilig "Geboren Um Zu Leben", Sportfreunde Stiller "Ein Kompliment", Nena "Nur Geträumt" and Ich & Ich "Vom Selben Stern".
We Sing Down Under has 30 tracks, whereas We Sing Deutsche Hits has a set-list of 40 songs, and both will arrive in their respective regions exclusively on Wii this Spring. If their launches prove successful, then we could see more of these territory-specific We Sing titles cropping up in many other countries, and Nordic Games certainly aren't against the idea, with more planned for the future.