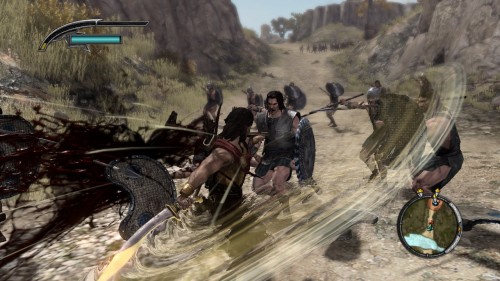 For those of you who remember, Warriors: Legends of Troy is that Dynasty Warriors-esque title that takes place during the Trojan war.  This title has been sitting in the back of my mind ever since it was announced and today Koei released some new screenshots and info.
Among these new screens are a new character reveal, Ajax.  Ajax is sporting quite the massive shield and instead of a traditional sword or spear  he seems to be using a fist weapon (iron knuckles).  That should prove for some interesting combat.
Warriors: Legends of Troy looks to be much bloodier and gorier than it's Dynasty Warriors counterpart, keeping true to the Trojan style and making this the first Dynasty Warriors inspired game to receive an M rating.  Legends of Troy is also sporting online co-op and online competitive multiplayer (how's that gonna work?)  Much like Dynasty Warriors, Warriors: Legends of Troy makes use of factions, allowing the player to take sides on either the Greek or Trojan armies.
So Koei first tackled Chinese history with Dynasty Warriors, now they are onto Greek history with Warriors: Legends of Troy.  Hopefully this is a step in the right direction for making a DW inspired game that takes place in the medieval era making use of legendary knights like Lancelot, King Arthur and Merlin (come on Koei, you know you want to!)
Warriors: Legends of Troy is set to release on March 8th for NA and March 25 in EU for PS3 and 360.  Check out the official site for more information.