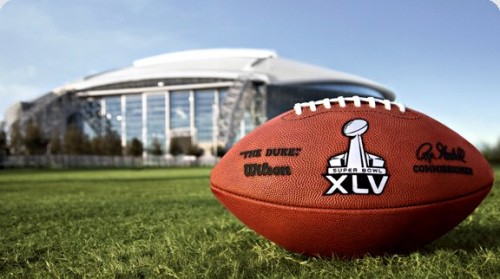 Hello Capsule Computers' Readers!
I know this is a gaming site, and we cover all news gaming; however, we also cover anime, movies, gadgets, and much much more. Many Gamers couldn't care less about the super bowl and probably spent the entire time playing Call of Duty or Halo: Reach. I was personally playing Black Ops with my Little brother for a majority of the beginning, then I watched episode two of  "Spartacus: Gods of the Arena" on the Netflix Instant Queue and finally I wrapped up the Super Bowl night by playing Super Meat Boy for the remainder of the game. I was texting a friend of mine during the entire game who was in fact watching the game with her family, but we didn't really talk about the actual game that much and I only asked for the current score once. The rest of this article will contain the few parts of the superbowl that actually interest me: The Noteworthy Commercials, and the Half Time Show.
First we have the Commercials. After the show, Xbox quickly stuck a large sum of commercials onto their spotlight page for gamers to peruse. A total of 60 videos, 58 of which were commercials, and 2 of them were stupid videos that weren't actually commercials and had no reason for being in the list. I subsequently sat through every single one of those commercials looking for the few diamonds among the coal. I have come out of the mines with only 3 videos that have any real comedy value. I'm not saying any of them really sucked, I'm just saying a MAJORITY of them pretty much just sucked.
Before I show everyone the three videos, I'm only really counting the ones that I hadn't seen weeks in advance. A few of the videos such as the Doritos Commercials and the Darth Vader Car commercial (I did include this one below) were thrown out into the world a few weeks ago and were seen by a lot of people way before the Super Bowl Even came around.
Now to commence the videos! Afterwards, I'll go over the half time show.
[pro-player width='530′ height='253′ type='video']http://www.youtube.com/watch?v=vnPA3D0jzOc[/pro-player]
The video contained Ozzy and Beiber… Why did I enjoy the commercial so much? Because I love how they make fun of Beiber, plain and simple. I was at first thinking the commercial was pretty stupid, and nothing that special; However, that the last 5 seconds or so came up and I started bursting out laughing.
~~
[pro-player width='530′ height='253′ type='video']http://www.youtube.com/watch?v=1ixijcuvPjY[/pro-player]
This commercial is pretty short, but probably makes every guy out there chuckle just a bit. Considering that I put this commercial among the noteworthy commercials is pretty much summing up how stupid I felt the other commercials were.
~~
[pro-player width='530′ height='253′ type='video']http://www.youtube.com/watch?v=R55e-uHQna0[/pro-player]
It is cute, and it is Star Wars… What more can I say?
~~
There were also quite a few movie trailers; however, if anyone has actually been to the theater recently you have probably seen most of these already during that time. What movies will I be going to see? Probably all of them, but the one I'm looking forward to the most is probably "Fast Five". People are probably scoffing at me right now, but I honestly enjoyed the other Fast and Furious videos and this ones seems to fit in that timeline at some point as well. Probably before "Tokyo Drift" and after "The Fast and The Furious"; We'll just have to wait and see. Thor and Captain America look pretty good as well; Pirates of the Caribbean could've used some more humor in the actual commercial; and if Transformers 3 has Meagan Fox in it again I'm going to shun it, she keeps ruining all of the movies she is in.
I went through about 60 Super Bowl Commercials and only really came up with 2 or 3 good ones. Pitiful! Just Pitiful… I guess no one actually wanted to make a good commercial on this year's Super Bowl. Does that mean that no one cares about the two teams that played? Who knows…
~~
Now we come to the half time show. Honestly, it wasn't that bad. The halftime show basically consisted of the Black Eyed Peas singing a bunch of their songs, and then usher coming down from the sky and singing some of his. Music, Dancing, Lights, Tron; It was all there, lots of fun and pretty cool to look at. There were a few problems, which made the experience a little less enjoyable. First, were the lights in the letter V in "Love" supposed to not be working? Secondly, I could barely hear usher, his mic must've been broken or something. Thirdly, Fergie's Singing sucked during a majority of the show. Finally, Fergie's singing sounded like a little girl trying to sing with the professionals… I think I got my point across on that bit.
Overall, this is what I have to say about the parts of the Super Bowl that don't actually have to do with football. I hoped everyone enjoyed reading this article and don't forget to comment with your thoughts about the game as well. Go ahead and fill readers in on parts of the game that I didn't cover, such as the actual game.
As for –
Who played in the game? I have no idea…
Who won? I don't know that either…
All I really have for you is what I have stated above: those 3 commercials that I felt were noteworthy, some complaints about the halftime show, and some insight on my life.
I have successfully watched every bit of this year's Superbowl without ever actually watching the game, also I must reiterate that Fergie's Singing Sucked! Enough said…
Oh, I also listened to the final edit of the Capsule Computers Podcast – Episode 002. You guys are in for a real treat! look for it soon (In the next day or two).
Just because I was in it, doesn't mean I don't enjoy laughing at everyone's jokes a second time around.