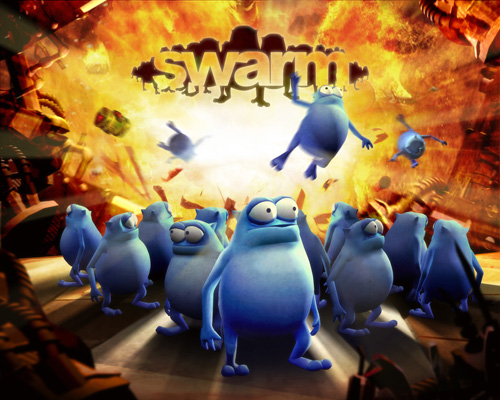 Normally, you may not expect a goofier looking title like Swarm to be action packed.  But Hothead Games will prove you wrong in their latest trailer.  Watch as two of the team members strive to complete a level with the highest score.  If you weren't already excited for this game, after this trailer you should be.
Two of the best parts of this game are featured in the trailer.  Number one is that losing a character will not mean instant death.  With so many Swarmites on the screen, you can literally kill over 200 of the creatures and still survive.
Number two is that there are a ton of different ways to maximize your playing styles.  Boost, jump, stack, scatter, swarm or perform a variety of other moves to get past the level.
Swarm will come out on the XBLA and PSN marketplaces this spring.  You control 50 of the adorable blue lads, all while trying to outrun traps and collect DNA.  The catch? All the little dudes will move as one, like a school of fish.  This allows you think about puzzles in a whole new way.  If you are still confused, then I suggest that you watch the awesome video below. 🙂
[pro-player width='530′ height='253′ type='video']http://www.youtube.com/watch?v=zlEUGkzDZVw[/pro-player]