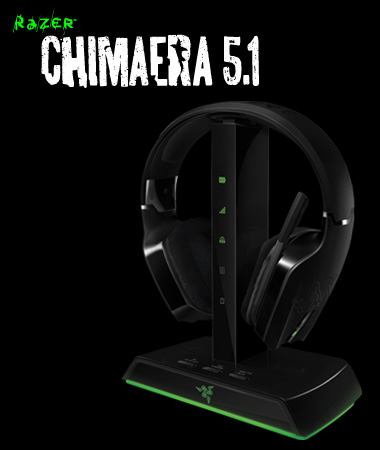 Razer's newest headset, the Chimaera, is probably one of the best audio devices known to man.  For the price of $199.00 and $129.00 for the surround sound and stereo editions respectively, these headsets have eye popping features.
First off, the surround sound set will last up to 8 hours on one charge.  The stereo edition will last up to 12 hours.   Plus, they are both wireless, meaning you can go anywhere up to 30 feet away and still hear other people speaking or hear your favorite music, movies and games.   Up to 4 other people can also locally connect 4 Razer base stations for those cooperative bashing parties.
These lag free devices will also sport PC connectivity, although you have to buy a separate adapter to use this functionality.
"Putting on this headset may cause serious jaw-dropping aural intensity," said Robert "RazerGuy" Krakoff, President Razer USA.  "With the Razer Chimaera 5.1, we're giving every gamer the opportunity to experience surround sound in complete wireless freedom.  We drew from our expertise in PC gaming audio and worked with Dolby® to develop a headset that lets you hear everything with absolute clarity to pinpoint enemy locations, prevent backstabs, and just take your gaming enjoyment further.  I recommend using it with the Razer Onza controller for serious Xbox ownage."
Well "RazerGuy" that sounds pretty cool.  If you want to check out more about these products or pre-order one, head on over to the Razer page, located here: http://www2.razerzone.com/chimaera
The 5.1 surround sound headset will ship on in the US and worldwide in April.  The stereo enabled headset is up for shipping on the 28th of February in the US and in March worldwide.