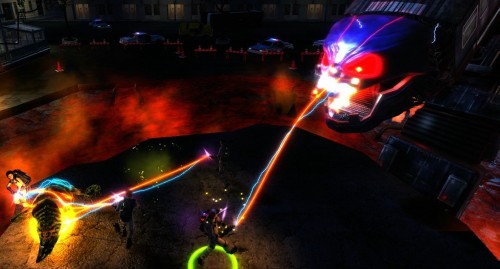 Have you only just managed to get the Ghostbusters theme out of your head after playing the retail game a couple years ago? Well, prepare to be singing it for another year yet!
Atari have released more enticing screenshots for the upcoming digital release, Ghostbusters: Sanctum of Slime. Since it was announced in December, a steady stream of images have been released, with the latest here showing some epic battles.
Details are a little scarce, but what we do know is it will be a downloadable title on the Playstation Network, Xbox Live Arcade and PC, it will be four-player co-op, on the same machine or online, and it will be available in the vague window of "Spring 2011". For us Southerners, that means March, April or May.
One small cause for concern – apparently, the original cast is not involved this time. The player characters are rookies, which worked in the 2009 retail game, because it kept the banter and relationships between the main characters intact. This time, with four rookies and no Venkman, much of the charm of the franchise may be lost. But, we'll have to wait and see. At least, it'll tide fans over until Ghostbusters 3 hits cinemas next year (hopefully!)