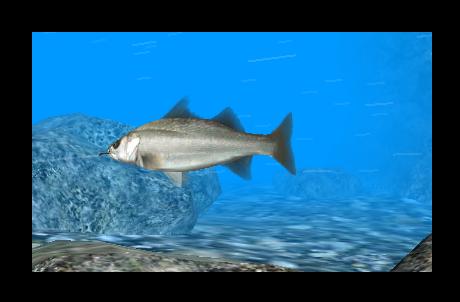 With just about every major publisher starting to reveal titles for the 3DS, Natsume have now revealed what will be their first game on the console. Surprisingly, instead of a Rune Factory or Harvest Moon title, gamers will get to see the next entry in the Reel Fishing series, Reel Fishing Paradise 3D. Reel Fishing Paradise 3D will have players travel in over a dozen "stunning 3D" locations to become a "master angler". In true Natsume style, this title will bring a lot of customization to the sport of fishing, letting players mix-and-match rods, reels, lines, lures or bait. There will also be much to collect such as rare items and tools for you fishing quest, including items branded with rarity.

"We're thrilled to be bringing the best-selling fishing series into the third dimension," said Hiro Maekawa, President and CEO at Natsume.
"With environments that boast stunning depth and fish that leap off the screen at you, Reel Fishing Paradise 3D is a fishing experience like nothing you've ever seen before!"

As well as this announcement, the company also released the first set of screens (which you can view below), and they are looking sharp and I can easily see why this series was chosen to take a venture into 3D. There is not official date at the moment on "Reel Fishing Paradise 3D" but we do however know it won't be too long of a wait after the big launch as Natsume have set a release window of Spring 2011.