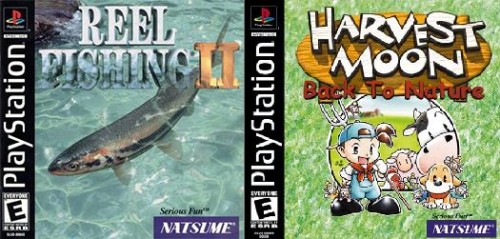 Over the years one of the Playstation 3's strongest selling points in my opinion is the huge selection of classic titles that can easily be purchased and downloaded straight to the system's memory. Today, Natsume have made it all the more sweeter with the release of Harvest Moon: Back to Nature & Reel Fishing II on the Playstation Network.

"These are two great PlayStation classics that deliver just as much fun today," said Hiro Maekawa, President and CEO at Natsume. "Reel Fishing II boasts the gorgeous settings and thrilling, realistic fishing action that have made the series such a long-running favorite. Harvest Moon: Back To Nature is loaded with colorful characters, fun activities, and action-packed minigames!"
Reel Fishing II was released a little late in the Playstation's life cycle, but it made up for that with it's beautiful graphics as well as being an enjoyable fishing experience which just about any gamer could easily get into. I have some fond memories of Reel Fishing II without a doubt as at the time, those visuals were groundbreaking.
Harvest Moon: Back to Nature was the very first Harvest Moon on the title on the PSN and is still considered a must have by the hardcore fan-base of the Harvest Moon series. Both titles truly stand on their own though as being two fantastic sendoffs for the PSOne and it is great to finally see them on the PSN.