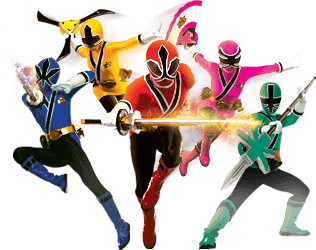 Remember back when you were younger and Power Rangers were great sources of watching teenage kids beating the snot out of monsters in completely unbelievable costumes and combine-able robot animals to form the Megazord? Well they are actually still around even though there have been so many iterations now that Zordon is nothing but a distant memory.
Regardless of that fact however, Namco Bandai has just partnered up with Saban Brands which owns the rights to Power Rangers Samurai. The samurai Power Rangers will master the ancient Samurai Symbols of Power and control the elements of nature like Fire, Water, Sky, Forest and Earth. There master (not Zordon) will be called Ji and their Zords will be a lion, dragon, ape, turtle and bear.
Carlson Choi who is the VP of Marketing at Namco Bandai had this to say about their new partnership with Saban Brands:
"As we kick off the year as the new NAMCO BANDAI Games, strategic partnerships are a key focus for us. Under this new partnership, I look forward to leveraging our strengths and capabilities with Saban Brands to increase our mutual reach with high quality game content. We are definitely excited to bring the Power Rangers series under our roster of titles."
What type of game would you want them to make, considering its been years since a Power Rangers game was even made? Apparently the first game will feature the Power Rangers Samurai, which mark the 19th season of Power Rangers.