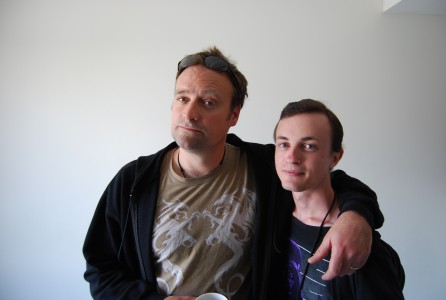 David Hewlett, Star of 'Stargate Atlantis' speaks with us here at Capsule Computers about his acting career, his work in Stargate, Dungeons & Dragons and of course; his background in gaming. The interview was conducted by our awesome editor, Ben Webb (Linkage Ayexe; oh wait, that's me!) and MasterAbbot towards the end there when Ben suddenly becomes too starstruck to function correctly. David just seemed to keep saying the right things and (it's weird writing about yourself in third person) was too much awesome for Link to handle in such a short amount of time.
Embedded below is the video of the interview.
Blurb:
David Hewlett is a Canadian actor who stars in the popular sci-fi series: Stargate Atlantis. The character first appeared as a more minor character in one of the prequel series (Stargate SG1) stories. Above Stargate, he has also guest starred in the TV series 'Sanctuary', written and directed his own film and starred in other cult movies.

Our staff here at Capsule Computers talk to David about Stargate, Video Games and Dungeons and Dragons. First part of the Interview is done by our awesome editor, LinkageAX; with MasterAbbott jumping in when Link suddenly becomes a little too starstruck.
Enjoy!