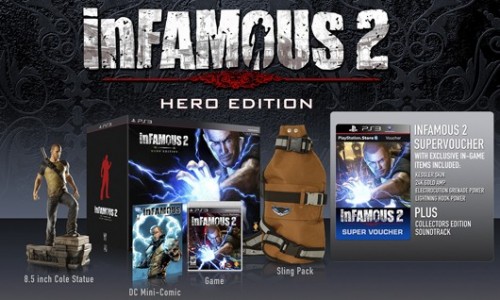 It looks like when Amazon.com dropped the ball and put up the inFamous 2 Hero Edition on their website they had all the specifics correct already. Sony and Sucker Punch released information today about inFamous 2's release date and rumored special edition. Confirming what we saw previously, inFamous 2 will be released to US stores on June 7th.
At the same time they also confirmed the existence of the Hero Edition for $100. The Hero Edition comes with everything pictured above which is a 8.5-inch statue of Cole, a replica messenger bag, a mini-comic, the game's soundtrack and all of the rest of the pre-order DLC content. People who do not wish to buy the Hero Edition can still get their pick of pre-order DLC depending on where they pre-order the game from.
Anyone who pre-orders from Amazon will get the 24K Gold version of Cole's "Amp" weapon, Best Buy purchases will come with a character skin of Kessler from the first game. GameStop will give Cole the Lightning Hook Power while Walmart gives pre-orderers the Electrocution Grenade ability. Personally I'd pick the Lightning Hook Power because of the way it sounds.