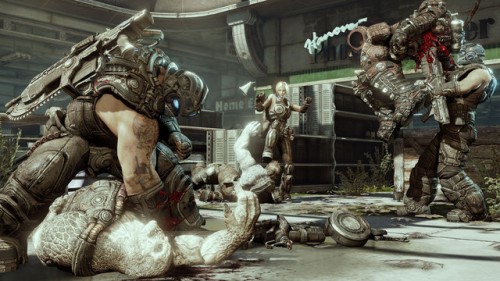 Better get out your day planner or a calendar to mark the date that you will not be coming out of your house for long periods of time because Gears of War 3 has finally gotten a set release date. Coming out on September 20th the third installment to the Gears franchise will bring the story of Marcus Phoenix and his crew to an end. Of course if you only have a PS3 then it will be business as usual.
Gears of War 3 will bring players into the story a year and a half after what happened in the end of Gears of War 2. Players will take control of Marcus, Dom, Baird and the rest of the crew to try and save what is left of humanity and put an end to the Locust scourge. There hasn't been a set date for when the multiplayer beta will begin for everyone who picked up Bulletstorm yet though, but expect that to be announced within the next few days.
Here is what else you can expect from 2011's most highly anticipated game: 
An enthralling cinematic story that captivates players in an intimately intense action game
Five-on-five multiplayer experience as well as four player campaign co-op experience
New multiplayer game modes including 'Beast Mode' – offering a new twist to the game where you take on the role of the locust horde and their assorted variations!
New maps including: Trenches which features an impressive sand storm that reduces your visibility, as well as Overpass, Mercy, Checkout, and Thrashball. 
New weapons including: The Bayonet Charge, The Retro Lancer, The Sawed-off Shotgun, The OneShot – a heavy sniper rifle that shoots through shields or cover for a surprise one shot kill, The Incendiary Grenade, The Digger Launcher and a few subtle tweaks to old favourites Hammerburst and The Classic Lancer. And don't forget that each weapon now has its own execution move!