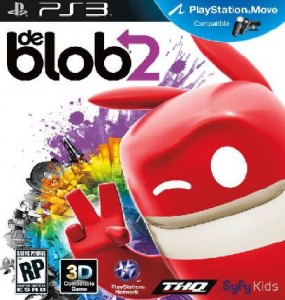 "de Blob 2" is all about bringing color to a lifeless and gray world.  When one fan of the game won a t-shirt off the game's Facebook page, he decided to express his gratefulness through the art of dance.  Calvin Harris's "Colours" is the name of the song; you can watch some amazing dance moves to this song if you just scroll down a little bit farther.
And speaking of "de Blob 2," if you watched last weeks episode of "Chuck" you would have seen that everybody's favorite super spy/nerd is also a fan of the game. Check out that episode here.  If you want, the "de Blob 2" reference is at about 7:30.
de Blob 2 will be available on the Xbox 360, Wii and Playstation 3 on February 22, 2011.