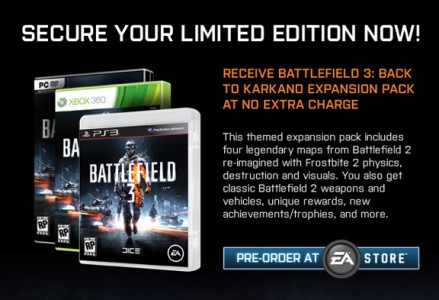 Well, if people could tell if a game was good or bad just by watching 30 seconds of video, there would be no need for reviews, right?  But, if you insist on watching the new trailer for Battlefield 3 and deeming the content therein awesome, then we TOTALLY AGREE!  Like, for real.  Featuring actual gameplay footage, this video shows that the game looks to be pretty darn gritty and realistic.  Four marines are will travel across Tehran, New York and Paris while destroying anything in their path that impedes them.
Pre-order the game now and receive the 'Back to Karkand' DLC, a map pack featuring 4 maps from Battlefield Bad Company 2.  "Battlefield 2 weapons and vehicles, unique rewards, new achievements/trophies" will also be included in this bonus.  Pre-order here: http://www.ea.com/battlefield3/blog/bf3-pre-order
Thanks to jaypea360, we now have the newest gameplay trailer from today.
[pro-player width='530′ height='253′ type='video']http://www.youtube.com/watch?v=wi2tae2PmmU[/pro-player]