Event: Armageddon Expo Sydney
Date: 26/27 February, 2011
Location: Sydney Olympic Park
Time: 9AM – 6PM
Mood – Starstruck
On both Saturday and Sunday (the 26th and the 27th respectively) was an amazing expo, which was being held in The Dome at Sydney Olympic Park, which was to cover sources of popular culture – such as Sci-Fi, Video Games, Tabletop Gaming, Anime and other various types of pop culture. In attendance at this event were many Stars, Celebrities and Awesome people from Awesome sources (like movies, books, games, anime, cartoons, etc.) as well as many Capsule Computer editors and contributors, such as Myself (LinkageAX), Phil (MasterAbbott), Michael and lastly; Grace (Aura). The weekend was insanely epic with plenty of opportunities to check out the awesome cosplayers, meet the expo's guests and enjoy the various panels and activities scheduled throughout both days.
Capsule Computer Contributors and Editors – Grace, Michael and Ben/LinkageAX.
Floor Plan 
Each day would begin with a queue for entry, Saturday's queue was much longer than Sunday's (though it's likely that it's because Soundwave was also running on the day and people were either attending that or not bothering due to the vastly over-crowded trains that were operating), then followed by entry of the event and then doing whatever was available inside the event. With Armageddon I found that the queues were handled quite efficiently as by around 10AM there was little to no queue at the entry at all. Quick queues are great for conventions, I mean I've been to some with a similar number of attendees and the queues have literally taken multiple hours to get anywhere, so for them to be this quick is a huge achievement and the organisers / volunteers / staff should be congratulated for it.
Upon entering the event, attendees were greeted by a doorman/woman (who were quite energetic) and were given a showbag of the event with various goodies and guides within. After obtaining a showbag, you would pass through a kind of white-room with a media sign in room to the right and the show floor / merchants sector straight ahead. The Media room is where people from the media (such as Phil and Myself) were told to go in order to obtain media passes which would allow us some exclusive access to various sections and celebrities at the event which were closed off to the public. Behind the Merchants Sector lies the main stage, where various panels and events were held during the expo, like the Fear-Factor Eating Contest on Sunday or the Cosplay Parade on Saturday (Note: Both are used as examples, there were more panels and events held at this main stage). Behind the Main Stage was a secret area, a hidden area, something that if you were playing an Xbox or G4WL game would have earned you a bunch of points for finding, behind the stage was the Green Room, which was where the celebrities / guests hung out at various times during the day, and was also where MasterAbbott and Myself were sometimes given access to in order to conduct interviews. Back outside and into the Merchants Sector was a couple of staircases, one just to the left/right of the entrance (depending on facing) and one just off to the side of the entry-way to the Main Stage. Both sets of stairs lead to the same place, or rather, places. Up the stairs was a small (pen and paper, trading card) gaming section run by one of the larger and more interesting stalls at the event and a conference room which was set-up as another stage for panels. Next to the stairs just outside the entrance to the Main Stage was the Signing area for the Various celebrities and guests at the event (though some were available at either their own booth in the Merchants Sector or booths/stalls run by other benefactors, like Cartoon Network) and just next to the Signing Area was the Photo Booths where attendees could get photos taken with their favorite guests.
That's pretty much it for the floor plan.
Intricacies –
~Day One~
Both Phil and Myself met up at the event quite early and went about taking photos of random cosplayers, exploring the stalls, chatting and joking around and generally having fun. After spending a short amount of time with each other we each separated to do some stuff by ourselves and I quickly went down to get an autograph with David Hewlett (Dr. Meredith Rodney McKay), most well known for his work in the Sci-Fi TV series: Stargate Atlantis. There I bumped into a friend I met at a previous convention, who was cosplaying as Rochelle? from the Left 4 Dead series of games. She had the costume down quite well, I'm still kicking myself for forgetting to get a photo even though we rendezvous'd several times throughout the day. She was in a different line to me, but she got a friend to hold her spot as she came over to chat for a few minutes. My line advanced and she headed back over to her line. Soon enough, it was my turn to meet David for the first time ever. I headed over to him, selected my photo and he signed it (I so want to make that sound way more epic, but I can't quite think of a way; rest assured that it was very epic indeed); after that we shook hands and I proceeded in the away direction. "Hi Ben, All the Best from the Best – David Hewlett" 'Eff yeah! After swooning over my picture, I went over to talk the friend of mine, before being marshalled away by security (or did that happen later? The two events [me meeting David for the first time and then the chatting) seem to be connected mentally, apologies if this wasn't the order). Also, somewhere in this paragraph, Phil wet his pants because of Hudson Leick screaming into a microphone which is quite entertaining to think about.
Check it here (I'm pretty sure I have to buy new headphones, be warned) –
[pro-player width='530′ height='253′ type='video']http://www.youtube.com/watch?v=ih0HE4_mE0c[/pro-player]
Anyways, after walking around for a bit more and stopping for random photos, I finally bump back into Phil near the entrance and we form a small two-man party for the convention. After discussing whatever it was that we were going to do next, Phil organized with Armageddon PR staff  if any of the guests would be available for interviews.  . After waiting a few minutes, we had the opportunity to interview David Hewlett. w00t! Euphoria ensues. Both Phil and I are ecstatic to be even in the same general area as the guests, let alone being able to interview them. We followed along behind the stage and into the Green Room area.
Links pants = the colour of this text.
We interviewed David and well, you can see how it goes here (You can literally see how excited I am by meeting him. Blanking due to being Starstruck and not actually being prepared for the interview – but never fear MasterAbbott was here to take over)
[pro-player width='530′ height='253′ type='video']http://www.youtube.com/watch?v=Hj3_pTUWcP8[/pro-player]
On our way out, we see Renee O'Connor and I have a slight mime conversation with her. It was awesome! Anyways, we're heading out and I'm completely geeking out at this point, it was so epic!; and we head out back to the Guest Signing area for a quick debrief. We decided that it would be a pretty sweet idea to have an interview with Michael Adams, who was a Film Critic for Empire Magazine, and was at Armageddon to promote his hilarious new book 'Showgirls, Teen Wolves and Astro Zombies'; which is about his year long quest to watch a bad movie every day.
Check out that interview here –
[pro-player width='530′ height='253′ type='video']http://www.youtube.com/watch?v=Jdfti0HoktM[/pro-player]
Michael was a fairly entertaining guy and his book has a hilarious concept that we would recommend to not only people who are into bad movies, not only to people who require a guide to bad movies, but to everyone in general. After we finished with our Michael Adams interview, we were lucky enough to score an interview with Karen Allen; who was absolutely AMAZING! Both Phil and I absolutely adored her and she was a very nice woman and consider ourselves quite lucky to have been able to interview her.
Can you believe that Channel 9 passed this up –
[pro-player width='530′ height='253′ type='video']http://www.youtube.com/watch?v=ZjVrBjk0-Yo[/pro-player]
I believe that Karen was our last interview for the day. We thanked her, shared pleasantries, shook hands, etc. She is really an amazing woman and we wish her all the best in her future endeavors. We headed off and I bumped into another friend of mine, and we got some photo's. She was the Witch, I believe, from Left 4 Dead. It never occurred to me until just now that I had multiple friends at the event who were cosplaying L4D this year. The photos actually turned out really well! We separated again after checking out some more stuff with Phil going to a panel by the two stars from Survivor (James Clement & Amy Cusak) with me heading over to the Kamehameha contest, followed by the Cosplay Parade at the main stage.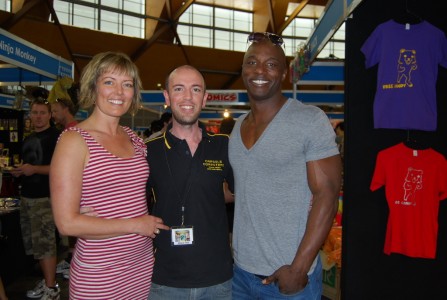 Phils pants = the colour of this text.
I can't comment on the Survivor Panel, but the two guests (James Clement and Ami Cusack) were really nice when we bumped into them earlier and had a short conversation with some joking and stuff going on. What I can comment on though, was the Kamehameha contest. For those of you who don't know what a Kamehameha is, here is a brief snippet –
[pro-player width='530′ height='253′ type='video']http://www.youtube.com/watch?v=pSb_FkL-We0&feature=related[/pro-player]
Close it after the bad guy explodes, the rest is irrelevant. So, anyways, the Kamehameha contest was great, though, like most contests; it quickly degenerated into people playing it up for laughs. Though I'm quite glad that someone who was somewhat serious about it actually made it through to the finals. Apologies for not having any footage of the actual contest.
The parade had many different cosplayers costumed as many different characters. Normally at conventions and things where there are cosplay competitions you're likely to get a few people dressed as the same thing, at Armageddon though, there wasn't much of that and the costumes themselves seemed more unique. Phil came back at around this time. Each cosplayer moved along onto the stage after showing off a pose or two to the audience and it was quite the treat. We saw many of our favorite cosplayers on the stage that we had met throughout the day, like the four amazing ladies we took photo's with (Sorry about not knowing your real names ladies, I should have asked) – Gabrielle, Xena, Poison Ivy and Selene (from underworld, apparently I was one of two to have gotten that correct during the day, go me!). Another of our personal favorites was Commander Shephard! Man that was an amazing costume and both Phil and I loved it, we must have spent ~20-30mins with that guy talking about his costume and stuff, stacking both days. So like an hour or so.
Commander Shepard, We Salute You!
After the contest, it was time to pack up and leave. Was quite a good day.
~Day Two~
The second day for some reason went much, much faster than the first day for some reason. Like it really felt like half the day was missing even though we spent roughly the same amount of time at the Expo. Today I didn't have as much trouble getting in, no queue for me this time, just waved my Media Pass and the guy let me straight in. Man that was great. Anyway, I enter the expo and I run into Phil near the main stage at the event and he lets me know that we have an Interview with the legendary Renee O'Connor very soon and that we should prepare. After a short while and some more photo's later, we are greeted by PR Staff and we head off into the Green Room area to wait for Renee.
We'd like to dedicate this shot to Dustin Spencer, the biggest Renee O'Connor fan ever.
Renee O'Connor is amazing and we absolutely love her allowing us to interview her.
Watch the amazing interview (and my epic camerawork) here
[pro-player width='530′ height='253′ type='video']http://www.youtube.com/watch?v=eUuVq5mqAdo[/pro-player]
Renee O'Connor, she is such an amazing woman, who most us would know as 'Gabrielle' from the 'Xena: Warrior Princess' TV show, which aired back in the 90s I believe. From what I remember of the show it was pretty amazing, but it doesn't compare to the epicness of Renee in reality. She's such a nice woman, and she knew what she wanted out of the interview and she had a fair idea on what would work out with the content we needed on our site. The interview is very much a product of hers as much as it is a product of ours. I can easily see why it is that one of our own editors – Dustin – has such a crush on her.
After our interview with Renee, we had a rather short timeframe to make it into the Roosterteeth panel, which was quite crowded. We were lucky to get seats, the oaf next to me was very reluctant to move his baggage and let me down, he wasn't even holding the seating for anyone, I maybe even had to coerce him with my media pass.  The dudes from  Rooster Teeth came in from behind the stage, equipped with Pies, Chips and Bundaberg Rum. Throughout the panel, they would feed a member of the audience by throwing them a chip, they would also take a swig of the rum every so often. I swear you could see them visibly get more and more drunk over the course of the panel. They were really great guys though and were very, very friendly with us and the crowd. It was easily the most entertaining panel of the day. We also ran into Capsule Computers contributors, Michael and Grace again, which happened on day one somewhere and I forgot to mention it.  After many laughs and a Q&A with the audience the panel was over and we were able to secure an interview with them. Awesome!
Rooster Teeth dudes. They Were amazing to us throughout the day, we love you guys!
We moved into a room just behind the stage and Michael was allowed to interview the guys from Rooster Teeth, which you can check out below –
[pro-player width='530′ height='253′ type='video']http://www.youtube.com/watch?v=E0oMhupJE7Y[/pro-player]
Shortly after the interview, a question occurred to me, which was; 'Would we ever get to see a Red Vs. Blue Campaign Add-on for Halo?'. They responded that it was a good question and that they would love to get one done and to let everyone know that we want one. So Everyone! Red Vs. Blue Addon for Halo: Reach or a future Halo title! Let's get this campaign started! Email Microsoft, or Bungie, or 343 and make it happen. The team left and we were so pumped that I don't quite remember how but we somehow ended up at their booth shortly after, loaded with freebies. Joy!
We went around taking more random shots, we may have had lunch at some point and maybe even chatted to some people. Unfortunately for Phil (who was taking photos of cosplayers) Laura Vandervoort walked past us and he missed an opportunity to say 'Hi'; which I'm sure he wanted to do at some point. I think we ended up taking a photo of a blonde Lara Croft, which was quite entertaining.  At some point after eating and taking photo's we were given the okay to interview the two quests from survivor; James Clement and Ami Cusack. You should have seen Phils face, he was so euphoric and starstruck, I'm surprised he didn't start hyper-ventilating and collapse. Though it probably helped that he had been talking to them on and off throughout both days of the event, they were pretty much best-friends by the time the interview came along. I'm sure I *may* have heard Phil Squeel like a school-girl at one point before the interview.
Originally the interview was to take place in one of the rooms that we shot McKay or Gabrielle in, but we ended up switching it to outside. I'm sure it worked out better this way, judge for yourself here –
[pro-player width='530′ height='253′ type='video']http://www.youtube.com/watch?v=XGqJn4ldYhQ[/pro-player]
Special thanks to both James and Amy for an amazing interview.  We wish them the best of luck in the future and we hope (well Phil hopes) to see them in future seasons of Survivor !!
Once the interview with Janes and Amy was done, we went around for some more photos which was cool and we somehow ended back up at the main stage again. This time, however, there was some kind of Fear Factor eating Contest or something going on. Phil was coerced into joining by Ami who was hosting the event (I seriously have a period of time missing from my memory, something happened in that time but I can't discern what) and was forced into eating a slab of butter. You should have heard his amazing quip – 'It tastes like butter!', really Phil, really?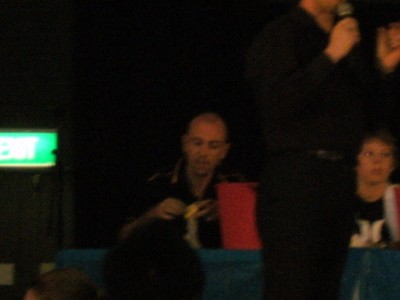 "It tastes like butter!" Thanks Phil, we wouldn;'t have guessed. On another note, isn't my camera work awesome!
After Phil's time on the stage, it was time for the next round, with a new batch of contestants. Luckily for me, I wasn't up there as the thing they were made to consume was 2-litres of milk. We quickly spotted cosplayers lining up for the cosplay competition that was on afterwards and went over to chat, get photos and get a better view of the guys drinking the milk. One guy downed the whole bottle, started talking and then without warning all the milk suddenly exploded from his mouth. It was epic.
We watched the Cosplay contest from the Sidelines, speaking with our favorite cosplayer, Commander Shephard. He actually won a prize in the contest, so congrats to him. Another favorite group of our actually won the event, which was; Xena, Gabrielle and the two Tron: Legacy ladies. Grats everyone!
The absolute winner, as chosen by her group.
After the cosplay contest and gratzing everyone, we left and I saw Colin Cunningham with a tiny line on him. I needed a photo to go with my 2006 Supanova one and he's an amazing guy. So I asked him for one, reminded him of the event and he seemed to remember it. Was amazing!
After we got our photo's it was time to go and Phil went to pick up his D&D merchandise then we all left.
Unsorted Memories –
I don't quite remember when it was (in relation to this article), the Ice-Cream eating contest. Man that was pretty cool. I'm sure there were two very sexy guys eating one Ice-block, two Jeedai, and maybe even a couple of girls, though I can't quite remember if they were legal or not. Basically what happened in the event was that one person would hold the ice-block stick in their mouth and the other would  have to eat it. I also had this idea during the eating contest, instead of using banal foods like butter or milk, why not use foods known to make you vomit but look completely harmless. Stuff like weetbix and saos? Put them together and it's like eating sand. Give it a go (Thanks to the Rover crew who made me do this at Iron Gut, Echo Alpha Delta). Oh yeah, and we got photos with the guy from The Vampire Diaries and Heroes randomly, which was awesome!
Conclusion –
Man, what a great weekend out! I had loads of fun, I'm sure I may have had a crossplayer leaning on me at some point. Thanks to all the Staff and PR at Armageddon, you're all wonderful! And lastly, thank you to all the guests that we were able to get an interview with! You're all so very awesome and I was very happy to have met you all, even if I was a little shy/starstruck at the time. Also, thanks to all the cosplayers who let us take photo's, they turned out great! Check them out below.   Thanks again everyone!