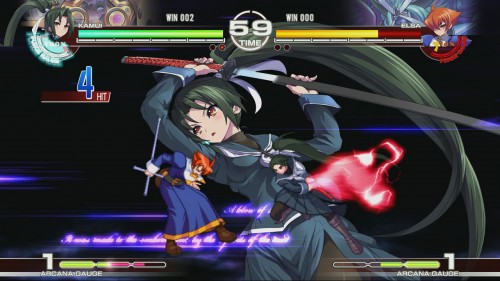 Arcana Heart 3 was released in Japan last month for the Xbox 360 and the PS3 but don't fret, it will be making its way overseas as well in the form of a downloadable game. Aksys games announced today that they will be bringing the female only fighting game to the PlayStation Network sometime in the Spring.
Developed by Arc System Works the game will contain twenty three fighters which is three more than the previous Arcana Heart game. To top that off, players will be able to pair their fighters with twenty three arcana types which give them different fighting styles leading to quite a few possible combinations. Also included will be an in-depth story mode for the game as well as a Simple Mode for newcomers.
Currently there is no set release date other than Spring and no news of how much the game will cost when it does come out. But it is interesting to note that, even though it was released on the PS3 and Xbox 360 in Japan, Aksys has currently only released information about a PSN release which means that it could be a PSN exclusive.