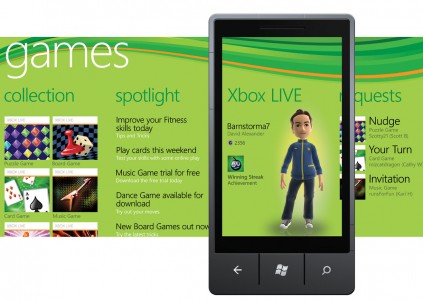 Windows Phone 7 has been out for a while now, and with it has come some pretty cool games. Some of them may be repackaged versions of old games but there are a few that are brand new to the Windows Phone 7. Check out the extensive list of notable games that have come out in the last month. If you have a Windows Phone 7, then you may be happily enjoying some of these games. If you are share your thoughts on the games you have played and maybe another one of our readers out there will enjoy it just as much as you have. (Note that the descriptions are the game's description and not our own.)
~~
Fruit Ninja ($2.99/£2.49)
Unleash your inner ninja in this fast-paced, fruit filled action game. Swipe your Windows Phone 7 touchscreen to slice and dive over a dozen unique fruits, including Watermelons, Coconuts, Kiwis and Oranges… but watch out for Bombs! Improve your slashing skill and use your dexterity and speed to earn bonuses by slicing multiple fruits at once. Compete against friends on Xbox Live Leaderboards in both Classic and Zen Modes.
~~
The Harvest ($6.99/£5.99)
The Harvest is a science fiction themed Action RPG that takes place on future Earth, some years after the fallout of a destructive alien invasion. These aliens, who have come to be known as The Harvesters, use humans and animals to create cyborgs: crude amalgamations of flesh and machinery. Mankind, in the form of the Global Defense Force, is fighting a war against The Harvesters using human controlled mechanized infantry units.
~~
Rocket Riot ($6.99/£5.99)
Strap on your bazooka, soldier, and get ready for the new and improved mobile version of the awesome action packed side-view shooter Rocket Riot. In this highly stylized eight-bit era stile game, blast your way through the environment against the strangest enemies you will ever encounter. Navigate through a completely destructible environment, uncover special power-ups, or even burrow into different areas of the map. The map regenerates, keeping the action fast-paced, but time doesn't heal all wounds.
~~
Max and the Magic Marker ($6.99/£5.99)
Max & the Magic Marker is a Physics-based 2D puzzle platformer, in which the player controls the boy Max along with his Magic Marker. While Max enables good old platforming fun, the marker provides the game's signature feature: the ability for the player to draw directly inside the game world where everything drawn becomes physical objects.
~~
Game Chest Solitaire Edition ($2.99/£2.49)
Game Chest: Solitare Edition gives you the chance to play the classic card games: Klondike, Spider Solitaire and Tri-Peaks in an attractive, unified environment. Rich details. Sexy Graphics. Catchy music. New features. What's not to love?
~~
iBlast Moki ($2.99/£2.49)
iBlast Moki is a physics puzzle game where you have to move cute little Mokis with the help of bombs, balloons, wheels and other crazy items.
~~

3D Brick Breaker Revolution ($2.99/£2.49)
Get blown away by stunning 3D graphics and up to 24 insane power-ups – including Jump, Vision Twist, Laser, Cannons, Nuke, Unstoppable and more! Take on infinite levels, epic boss battles, secret bonus levels and more! Four amazing game modes deliver endless excitement: Revolution, Nightmare, Classic and Time Attack! Break your first brick to start a 3D revolution today!
~~

Zombies!!! ($4.99/£3.99)
Zombies!!! puts you in the middle of the action as you try to escape the ever advancing zombie horde. Players must use a combination of wits and brawn to be the first to the heliport and certain escape. The only problem is, the zombies are everywhere, and they appear to be very hungry and your opponents would really prefer if you didn't escape.
~~

Brain Challenge HD ($4.99/£3.99)
The best-selling, critically acclaimed brain training franchise arrives on W7 phones! This complete brain training program is back with total brain activity coverage, a personalized coach to help all brain profiles and optimized gameplay. Just like your body, your brain needs exercise to stay in shape. Maintaining it simply involves completing small exercises without pain, stress, or boredom. That's where Brain Challenge comes in! It's more like a real vitamin boost for your brain. More than just a game, Brain Challenge is your personal coach and an entertaining, easy solution for keeping your brain alert. With various fun exercises, train your brain whenever and wherever you want on your W7 phone!
~~

An amazing First World War flight simulator with arcade accents. Fly your favorite plane in the single player campaign or play skirmish user defined missions. Amazing graphics, realistic aircraft behavior, challenging AI, incredible game experience.
~~

Revolution ($2.99/£2.49)
Revolution is an original cog-based spatial puzzle that is simple to learn and challenging to master. Master control over your inventory! Drag and drop cogs to complete the level and power every gear. Can you design the best mechanical solution to complete your machine? Progress through 75 unique levels and discover new challenges! As levels increase in complexity, players will find new elements such as "No Cog Zones," and "Falling Stars" to challenge even the most skilled mechanical wizard. Fully integrated with Xbox Live, players can collect Achievements and compete with friends through online Leaderboards!