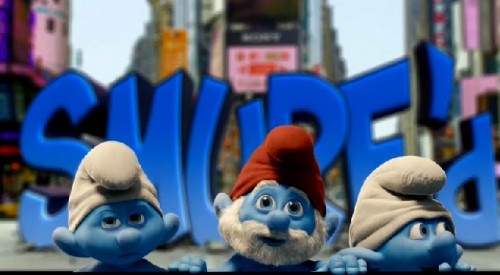 Ubisoft has decided to launch a movie tie-in game for the movie smurfs. The only details we have so far are from the press release below, but if the movie and the tie-in game stay true to the Smurf's roots, then we will probably play as smurfs as we run away from an evil guy who is trying to melt us down into gold. Because, you know… you melt smurfs into gold to become rich! Oh, there was also a cat!
Also, since it is a movie tie in, it will probably take place in whatever city the movie is located at. Who knows, but like I said all the details we have now are in the press release. Aside from the systems it will be released on, which is the Wii and DS, there isn't much information. Oh yeah, and it will be out around august.
You can check out the movies site at http://www.smurfhappens.com/
Check out the full press release below.
~~~
LAFIG BELGIUM AND SONY PICTURES CONSUMER PRODUCTS, INC. SIGN UBISOFT® TO DEVELOP VIDEO GAME FOR "THE SMURFS®" FEATURE FILM
SAN FRANCISCO – January 20, 2011 – In anticipation of the August release of Columbia Pictures' / Sony Pictures Animation's 3D family comedy The Smurfs, Ubisoft announced today that it will develop and publish a video game based on the live-action / CG-animation hybrid film. Designed for the Wii™ system from Nintendo and the Nintendo DS™ family of hand-held systems, The Smurfs video game is scheduled to launch with the release of the feature film.
This summer, the Smurfs make their first 3D trip to the big screen in The Smurfs. When the evil wizard Gargamel chases the tiny blue Smurfs out of their village, they tumble from their magical world and into ours – in fact, smack dab in the middle of Central Park. Just three apples high and stuck in the Big Apple, the Smurfs must find a way to get back to their village before Gargamel tracks them down.
The film is directed by Raja Gosnell. The producer is Jordan Kerner. The screenplay is by J. David Stem & David N. Weiss and Jay Scherick & David Ronn, from a story by J. David Stem & David N. Weiss, based on the characters and works of Peyo.
Commenting on the announcement, Mark Caplan, Vice President, Consumer Products at Sony Pictures Consumer Products, said, "We look forward to continuing our work with Ubisoft in the video game space. The Smurfs video game will provide kids and families around the world with hours of enjoyment."
"We're thrilled to be working with Lafig Belgium and Sony Pictures on the Smurfs license. Our ongoing partnership with Sony Pictures Consumer Products allows us to create fun and entertaining video games based on some of the most popular family films," said Christian Salomon, vice president of worldwide licensing at Ubisoft. "Ubisoft's creative team is working hard on crafting the perfect video game experience that will appeal to new and old fans of The Smurfs."