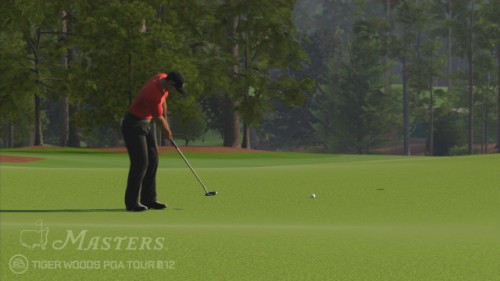 Even though Tiger Woods may not be having the best luck with his golf game lately that doesn't mean that EA isn't sticking by him. This is evidenced by the fact that they just announced that they will be bringing Tiger Woods PGA Tour 12: The Masters to consoles on March 29th for the US and then April 1st for everyone else. Hope there won't be any April Fool's jokes related to that date.
You can find a list of new features below, but what isn't mentioned is the fact that the game will be released on all consoles which on its own isn't very big news. But what is interesting news is the fact that the PS3 version will be including Move support as well as a collector's edition for $70. The collector's edition isn't just going to cost extra for nothing, as it will include 5 extra undisclosed courses. So even though golf may not appeal to some people, there will be yet another Tiger Woods golfing simulator coming out in just a few short months.
Masters Moments – Play through memorable, historic moments as players try to measure up against some of the sport's greatest legends.
Tiger at the Masters – Relive each of Tiger's four wins at the Masters by attempting to equal or beat his scores in each round of the Tournament.
The Caddie Experience – Behind every great golfer is a trusted and reliable caddie. Players will have a caddie by their side on every swing, providing strategic advice, from shot selection to reading greens, helping them become a more successful golfer.
The Closest Thing to Being There – For the first time ever, EA SPORTS™ utilized a new state-of-the art laser scanning technology at Augusta National Golf Club to laser scan every hole featured in the game. This will provide players with the most authentic digital representation of the Tournament and Par 3 courses. Every tree, every azalea and every undulation in every green was recreated down to the smallest detail.
Broadcast Presentation – Feel the emotion of every swing as called by the all-new commentary team of Jim Nantz and David Feherty, who headline a completely revamped TV broadcast presentation package.
Career Mode – The all-new career mode will closely mirror the journey of an amateur golfer's rise through the ranks and chase the title of Masters champion.
New Players – Over 20 professional golfers to choose from, including Zach Johnson (2007 Masters Champion) and Bubba Watson (2010 Ryder Cup – Team USA).
Championship Courses – Take on the best of the best on sixteen of the world's most celebrated courses, including Augusta National Golf Club, Royal Melbourne Golf Club (Australia), Atlanta Athletic Club, TPC San Antonio, St Andrews Links and Pebble Beach Golf Links.