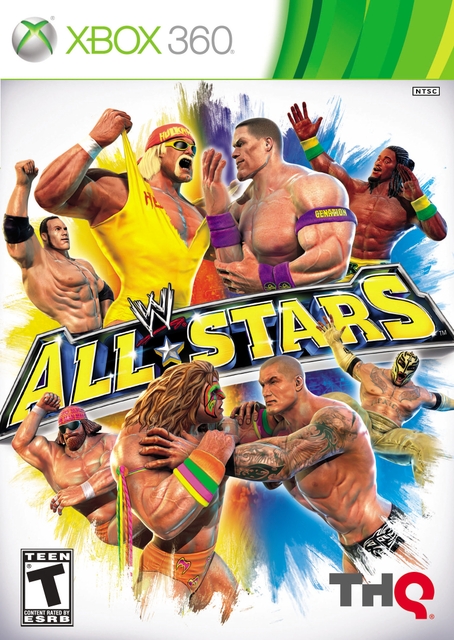 THQ are really taking off with their promotion of WWE All Stars as of late with the Macho Man commercial which debuted over the weekend and now we have a cover art reveal for the new arcade fighter. As you can see, Randy Orton, John Cena, The Rock, Rey Mysterio, Kofi Kingston, Hulk Hogan (Which is surprising due to Hogan being in a competitor's company as of now) and the Macho Man himself all grace the cover in their new cartoon-ish greatness. As well as this art which will grace the PS2, PS3, Xbox 360, PSP and Wii versions of the title's cover is a new fact sheet THQ has put out for WWE All Stars to give fans a better idea of what to expect with WWE All Stars.
GAME FEATURES:
• FUN AND IN-YOUR-FACE WWE ARCADE-STYLE ACTION! – Take WWE action to the next level with high-flying, hard-hitting and high impact gameplay that bridges generations of WWE fans and casual followers alike with fun, intuitive and approachable gameplay that lets you jump right into the ring! With responsive, arcade-style controls, every WWE Legend and WWE Superstar will have a variety of grapples, attacks, killer combos, finishing and signature maneuvers to create the ultimate competitive and fast-paced gaming experience that is easy to pick up and play but provides plenty for expert players to master.
• BEST ROSTER EVER – Choose from the greatest roster of WWE Superstars and WWE Legends EVER assembled in a WWE videogame, including John Cena, The Rock, Andre the Giant, Big Show, Triple H, Bret "Hit Man" Hart, Ricky "The Dragon" Steamboat, Rey Mysterio and for the first time ever in a THQ/WWE videogame, "Macho Man" Randy Savage. Each WWE Legend and WWE Superstar will boast a distinctive and highly stylized appearance, adding to the overall spectacle, atmosphere and in-your-face attitude exuding from the on-screen action.
• FOUR AWESOME CHARACTER CLASSES – Punt an opponent sky high! Juggle him with your fists! Weave together killer combinations of high impact moves or best an opponent with your fists of fury! With four distinct classes of competitor – Acrobat, Big Man, Brawler and Grappler – WWE All Stars will provide players with WWE Legends and WWE Superstars who have distinct advantages, strengths and techniques, including specific combinations and unique abilities.
• FANTASY WARFARE – Who is the greatest WWE Superstar of all time? Which generation had the Best Big Man or the Most Impressive High Flier? Find out by choosing a side and playing through epic matchups between WWE Legends and Superstars to determine the best of all time, each introduced by cinematic video packages featuring authentic WWE footage.
• CREATE-A-SUPERSTAR – The greatest WWE roster of all time wouldn't be complete without YOUR created WWE Superstars! Customize your Superstar and pit him against the game's WWE Superstars and WWE Legends to see if he can become legendary.
The confirmation of the popular create-a-superstar function is definitely the best news out of this new information and the roster is indeed looking promising. As a fan of the older arcade-esque WWE/WWF titles, I can easily say WWE All Stars is looking to be a must for fans of the brand. For for information you can check out the official website by clicking here.