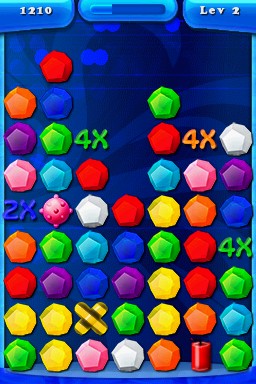 Polish video games developer and publisher, Teyon, is pleased to announce their next puzzle/logic game hitting the European Nintendo DSiWare™ on January 7th 2011. The title will sell for 500 Nintendo DSi points.
You can Swap till you drop with Super Swap, an exciting blend of arcade action and match-3 fun in which you find yourself dragging colourful blocks in one of 4 directions to connect 3 or more blocks and clear the board. As new blocks fall, you'll have to move fast to keep the stack from reaching the top. The games features include:
4 exciting modes of the gameplay
Plenty of power-ups and combo bonuses
Colorful and nice graphics
Various shapes of blocks
In a lot of ways, Super Swap looks much like Bejeweled, but with Bejeweled 2 released only recently on WiiWare, the Nintendo download service for the Wii, will Super Swap be able to compete? 
The official Super Swap website is available at http://www.teyon.com/games/super-swap