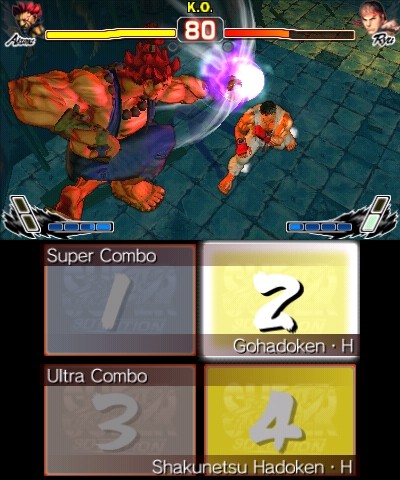 Now that the huge 3DS is over Capcom has released two new videos for Super Street Fighter IV 3DS Edition which will release with the launch of the 3DS. One video features gameplay footage while the other is a simple trailer for the game, but both are great to see after the long drought of news regarding SSFIV3DS. Other than that though more information for the game itself has been revealed alongside these videos.
Super Street Fighter IV 3DS Edition will be using everything available in the 3DS regarding online multiplayer when the game launches; in what they are calling the only title to utilize the full capabilities of Nintendo's online network at launch. StreetPass will use the Figurines that you can collect within the game to battle automatically with other Nintendo 3DS owners and you can even collect your winnings. This means that if you are in a crowded area with your 3DS then you could win countless battles without even knowing it.
The game will be sporting 35 different playable characters from the Street Fighter franchise and also utilize an easy to use Lite mode which gives players the ability to instantly map combination attacks to one button press or even a Pro mode which allows those who know the combinations to make things a bit easier for themselves.
[pro-player width='530′ height='253′ type='video']http://www.youtube.com/watch?v=2SWfEfBQUy8&feature=player_embedded[/pro-player]