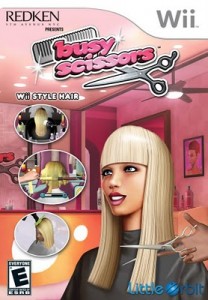 Little Orbit LLC, publisher and developer of products aimed at the casual market, has partnered up with Gem Distribution, signing a distribution deal with Gem Distribution which will see the release of latest Little Orbit title, 'REDKEN Busy Scissors' being released for Wii and DS on 4th March.
REDKEN Busy Scissors is a casual hairstyling game which aims to put you in the frivolous role of a hairdresser. It looks like it will utilise the Wii Remote pointer or the DS's touch screen depending on the version of the game you are playing – shampooing, cutting, colouring and blow drying are the order of the day here. Also, because the game has a sponsor ship deal, expect official REDKEN salon haircare products, including various branded styling implements to make an appearance.
At the moment, it's looking a bit like the Trauma Center games, but instead of removing a steel girder protruding through a man's chest, you'll be preparing Sally for a date with a quick cut 'n' colour.