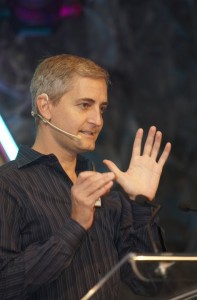 Razer, specialists in top quality gaming peripherals, have announced that they are pleased to welcome Ed Fries to its Board of Advisors. Ed brings 28 years of gaming industry expertise to the company which should prove invaluable in helping Razer stay on top of its game in delivering professional products to gamers across the world.
Ed Fries created his first videogames for the Atari 800 in the early 80s and from here, he moved to Microsoft where he played a key role in the creation of Excel and Word. He then went on to pursue his passion for videogames, leaving to form Microsoft Game Studios. Over the next 8 years the team grew and published over 100 games, as the rest, as they say, is history. In 2004, Ed Reins retired his position as Microsoft Vice President and went on to fill a range of roles among the games industry making use of his experience: from board member and advisor, to consultant.
Ed Fries has this to say about his new position at Razer: "Razer is a company developing some of the most advanced gaming technologies in the industry right now.  I look forward to working with the team and providing guidance to continue their successful line of gaming products and developing new growth opportunities."
Hopefully gaining this industry veteran will help Razer to deliver even better products in the future.