Razer's latest peripheral, the Razer Onza Xbox 360 Controller can now be pre-ordered ahead of its arrival toward the end of February; with its sister peripherals, the Razer Onza Tournament edition and Razer Chimaera soon to follow.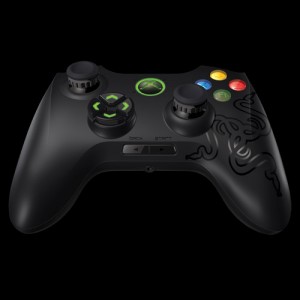 The controller stands out as one of the most sleek looking pads around, offering a professional-standard, responsive gaming experience to everyone. The Razer Onza carries adjustable analog sticks for precision movement and aiming/camera-control in-game, programmable buttons which can take on the function of any button on the controller for ultimate customisation to suit your play style,  and a defined D-Pad for improved accuracy which is ideal for those impartial to the odd beat 'em up.
Amongst these practical benefits come other design features: a shimmering, glossy finish, back-lit buttons and ergonomic rubber handles which probably boast improved grip to the controller too.
It's certainly looking like an impressive piece of kit that could be vital for giving you an egde online on the battlefield. It looks like it has something to offer everyone, no matter what your favourite genre is, and if it lives up to claims and controls as good as it looks then we're in for a real treat.
For more information and a better look at the controller, check out the video we captured at TGS 2010 that features an interview with one of the Razer staff members who gives a rundown of what the controller has to offer, interviewed by our very own MasterAbbott.