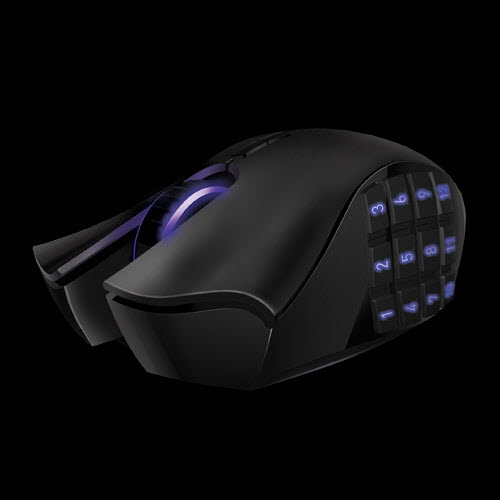 Today we have a video preview of what you get when you pick up Razer's Naga Epic MMO Mouse.  This is certainly the mouse to own when it comes to MMO play, with its 16 million color backlight illumination  (which gives you that added + 5 to Charisma) and 5600 dpi precision 3.5G laser sensor that will certainly increase your dexterity by +10,  this bad boy is truly EPIC and well worth every penny.
This video preview goes through what you get in the box and all the extras.
Info covered in the video preview :
•  17 Fully-programmable MMO-optimized buttons (including 12 button thumb grid)
•  Wired/Wireless dual mode capability
•  3 Interchangeable side panels
•  Charging dock (also functions as a wireless receiver unit)
•  Unlimited character profiles with AddOns
•  Optional MMO-specific software AddOns
•  16 million color backlight illumination
•  5600dpi Razer Precision 3.5G Laser Sensor
•  1000Hz Ultrapolling™ / 1ms response time
•  Approximate size: 116L x 77W x 41H (in mm)
•  Battery Life: 12hrs (continuous use); 72 hours (normal gaming usage)
Any questions shoot them off below and we'll do our best to answer them or ask Razer for you.
Like what you see ? Then make your way over to the Razerzone store and pick yourself up a Razer Naga now.  Click here.
We'll have a review of the Razer NAGA Epic within the next few days – stay tuned.