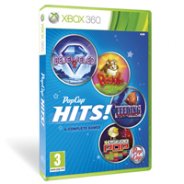 A leading UK publisher of computer and videogames, Mastertronic, has signed a deal with casual games pioneer PopCap Games which promises to bring many PopCap hits to the shelves. As part of this deal, Mastertronic will publish and distribute a number of PopCap's casual game franchises for PC, handheld and console formats to retail across the UK, Europe and PAL regions.
The first of these releases -PopCap Hits- arrives exclusively on Xbox 360 on February 18th and consists of four top titles: Bejeweled 2, Peggle, Feeding Frenzy and AstroPop.
A further release will then follow, PopCap Hits Volume 2, which will provide another burst of four of the best PopCap titles: featuring Plants vs. Zombies, Feeding Frenzy 2, Zuma and Heavy Weapon.
What's more, thanks to Mastertronic, you can expect Plants vs. Zombies to arrive on the Nintnedo DS sometime in March, and the PC side of things also isn't neglected with a compilation pack similar to that of the Xbox 360. Plants vs. Zombies, Bejeweled Blitz and Amazing Adventures: the Caribbean Secret will come to PC in February too.