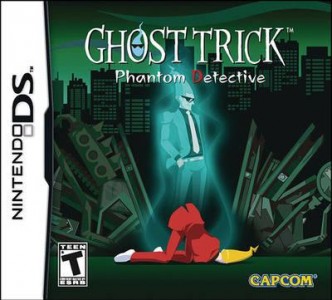 As someone who has been covering Ghost Trick for a while now, it is a bit hard to believe that the title is in stores as of today. The date did sneak up on me without a doubt, but in light of release of their new title, Capcom have a brand new launch trailer to go along with Sissel's debut on the Nintendo DS.
In the trailer we get a glimpse at one last scene where Sissel watches a murder…well, not quite a murder as the scene is stopped quickly right as a large object falls onto an energized man, but either way, this launch trailer is great at making you want to finds out more and it seems like this could be a great alternative for Phoenix Wright fans out there as the whole concept of solving a mystery while possessing objects is definitely a bit fresh to the genre.
That being said, check out the trailer below for yourself. Something to note as well is that Capcom has quite the deal going on via their webstore with the Ghost Trick: Phantom Detective New Classics Bundle. This bundle is made up of two Shu Takumi titles, one being Ghost Trick: Phantom Detective, the other being Phoenix Wright: Ace Attorney for just $39.99. If getting both is something that interests you, you can click HERE to be taken to Capcom's store. If the bundle isn't your thing, Ghost Trick is now available in stores so get this one in your "possession" today!