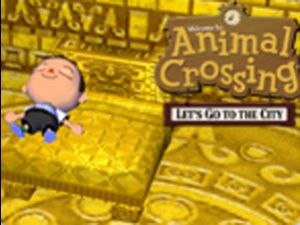 Animal Crossing for Wii got a series of item downloads before the year was out, courtesy of Nintendo. And now, it looks like the set out to start 2011 as they ended 2010: with plenty of downloadable items.
The latest addition is this rather stylish Gold Bed. Items in the Golden Series cannot be bought or grabbed from anywhere else, so this is your one and only chance to get hold of a gold bed with a chunky, embellished headboard and cosy golden quilt.
All you need to do is bump into Pete The Postman between now and 31 January to get hold of this new item, making sure your WiiConnect24 settings are enabled. Also, as with all Animal Crossing downloads, the gold bed won't count in your favour when it comes to having your home assessed by the good people at the Happy Room Academy.