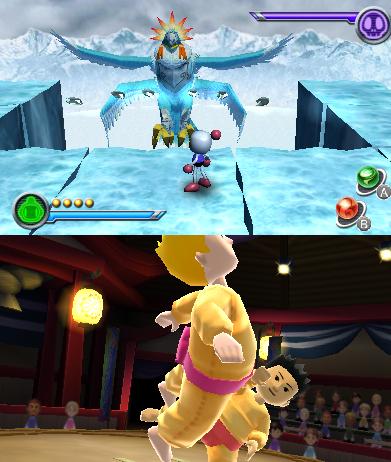 Along with the many other companies jumping on the 3DS' line-up is Hudson, who are bringing some their most popular titles to Nintendo's handheld. Three titles have now been named by Hudson at being their first entries into the 3D Market. It comes at no surprise that Bomberman & Deca sports will be joining the line-up, but Hudson will also be publishing the first Brain training title as well for the 3DS. Let's now take a look at all three of these brand new titles…
DECA SPORTS EXTREME will feature 10 3D sports: Soccer, Tennis, Basketball, Ice Hockey, Snowball Fight, Sumo Wrestling, Bowling, Snowmobile Racing, Sport Blowgun and Trampoline. Players can collect power-ups throughout each event to unleash powerful special moves such as a giant racket in tennis, a cannon dunk in basketball, or a rainbow shot in soccer. Compatible with up to four players through download or wireless play, DECA SPORTS EXTREME allows players to customize teams and choose from various venues. DECA SPORTS EXTREME will be available on the Nintendo 3DS Summer 2011 and is not yet rated.
Bomberman (working title) brings the "Blue Bomber" into eye-popping 3D with its world-famous multiplayer and an immersive single-player adventure. Players can navigate beautifully designed arenas and take in the sights of Central City. Bomberman takes full advantage of the revolutionary Nintendo 3DS to provide long-standing or existing and new Bomberman fans with a 3D gaming blast . Bomberman will be available Fall 2011. Rating pending.
Nikoli's Pencil Puzzle (working title) is the first brain-training game for the Nintendo 3DS. Gamers can engage their minds with four challenging puzzle games including Sudoku, Hashiwokakero, Shikaku, and Akari to invigorate the mind! From world-famous puzzle maker Nikoli, Pencil Puzzle brings fan favorite puzzles to players' finger tips. Nikoli's Pencil Puzzle will be available Fall 2011. Rating pending.


"Hudson is thrilled to be at the leading edge of 3D gaming with three new games for the revolutionary Nintendo 3DS," said Greg Suarez, SVP of Sales & Marketing at Hudson Entertainment. "The gaming industry is abuzz with high hopes and expectations for the Nintendo 3DS, and these games have been specially developed to utilize the system to the fullest.
Hudson have experience with portable gaming so I am confident these three titles will just be the beginning it what we see from the developer. After enjoying Lost in Shadow as much as I did, maybe we will eventually see a sequel/prequel come into the mix later down the line, there is no doubt it would certainly fit in perfectly with the 3D technology, but for now I am thrilled to see Hudson showing some love to the console with some of their best selling franchises.