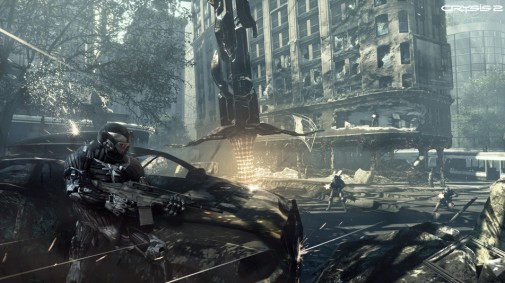 EA  and Crytek are planning on releasing a  Crysis 2 multi-player demo. Download the demo on January 25, but only if you are an Xbox 360 owner and a Gold Live member.
"Crysis 2 offers a fresh, new take on multiplayer — one that will stand out and establish the game as a top contender in the first person shooter genre," said Cevat Yerli, CEO of Crytek. "The Nanosuit gives gamers a sense of power they have yet to experience in any other shooter and having New York City as a backdrop will present a different type of playground with even more possibilities."  (Like being invisible!)
The  demo will have two game modes.  On the Skyline map you can play Team Instant Action or, deathmatch. The other mode is called Crash Site.  Battle for control, (and points!) of alien drop pods. The full game, developed by Crytek UK, will include six gameplay modes and 12 maps in New York City. In the campaign, 50 multiplayer ranks and  upgrades will be available to earn.
Preordered copies of the Limited Edition include a camouflaged SCAR assault rifle, early access to the Holo Decoy attachment, Platinum Dog Tags and Bonus XP.
Get the game on Xbox 360, PlayStation3 PC on March 22, 2011 in North America. In Europe, the date for release is March 25, 2011.
[pro-player width='530′ height='253′ type='video']http://www.youtube.com/watch?v=M1YDkLIGtqU&feature=player_embedded[/pro-player]