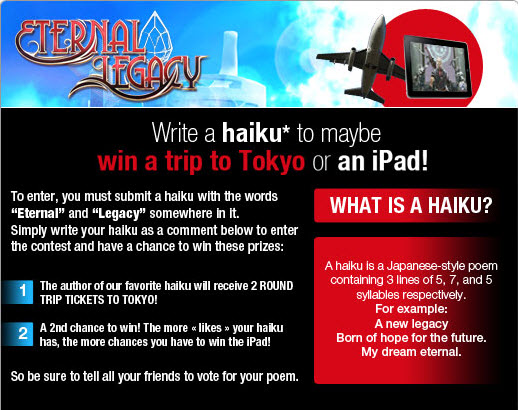 Who wants to win a trip to Japan ?  I DO !! Gameloft are giving one lucky person a chance to Win a trip for 2 to Japan and also an iPad in their Eternal Legacy "Haiku" Contest !!
All you have to do is simply submit a Haiku (3 lines poem made of 5, 7, 5 syllables) including the words "Eternal" and "Legacy", Gameloft's favorite will win the trip for 2 to Japan!
But that's not all, the Haiku with the more "likes" will win an iPad! So what are you waiting for, write up a Haiku now !! then tell your friends to vote for you!
To enter click here or on the image above !!  Good Luck to you all 🙂  May the best Haiku win.
If you haven't check out Eternal Legacy have a read of our hands on preview here.  Full review of the game will be released shortly.  Stay tuned.
*Competition ends on the 3rd Of January 2011*