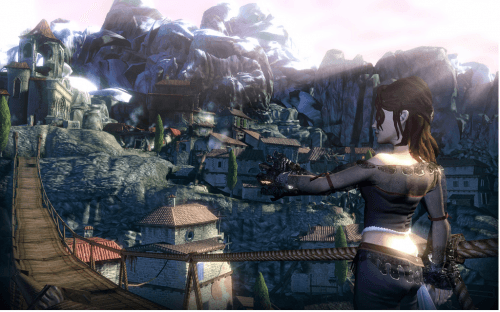 Now it's hard to imagine that many have even heard about the title Venetica before. It is entirely understandable considering the game developed in Germany and was released to European gamers only and this was over a year ago with zero news of the game ever being released in North America. That is until today when Atari announced that they would be bringing the game to North America quite soon. So soon in fact that it will be January 11, 2011. Yep on 1.11.11 it will be released for the PS3, Xbox 360, and the PC.
But what is Venetica actually? Venetica is an action RPG that places players in 16th century Venice and players can also expect a very immersive storyline involving necromancers and Death himself. Players will take control of Scarlett, a young woman who patrols the streets of Venice to protect it's denizens and destroy any unnatural creatures she comes across. So though it is a bit abrupt with the news, it's great news to hear of a localization of an action RPG at the beginning of the new year.
The trailer below was for the European build of the game and is two years own in it's own right but does give a taste of what to expect.
[pro-player width='530′ height='253′ type='video']http://www.youtube.com/watch?v=hqEkanobUfo[/pro-player]