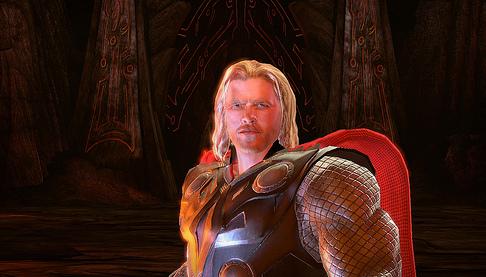 As many of you may or may not know, 2011 marks the next big movie for Marvel, Thor: God of Thunder. Well, like most comic book heroes that get the movie treatment, Thor is also going to be getting a video game due out to coincide with the movie's release. Sega have officially announced today on their blog that they have signed Chris Hemsworth to voice the title role and Tom Hiddleston to voice Loki in the upcoming action adventure Thor: God of Thunder. Both actors will be playing the same parts in the movie and this is a bit of good news for those who like to have the real voice actors included in Movie/Video Game Crossovers.
"Bringing in Chris and Tom to star in Thor: God of Thunder gives us AAA talent that will create a truly cinematic interactive experience," said Gary Knight, Senior Vice President of Marketing at SEGA Europe and SEGA of America. "Mighty Thor and the trickster Loki will face off with real emotion while giving fans visual and vocal continuity between the video game and film adaptations of the Marvel franchise."

Thor: God of Thunder will take players through an original, epic-scale third-person action adventure for which Matt Fraction, the Eisner Award-winning writer and lead Thor comic book author, served as story consultant. In the game, Thor battles through the numerous worlds of Norse mythology to save Asgard. Players will wield the iconic Mjölnir, Thor's legendary hammer, to fight enemies of an immense scale while controlling the elemental storm powers of lightning, thunder and wind to vanquish enemies. Thor must overcome monstrous foes lifted from the pages of the comics, including Ulik, Ymir and Surtur, as well as other daunting enemies.
I actually feel like I am getting some vibes from Wolverine here (as that game was great), and if you remember, that was a pretty decent game. I think as long as the quality is better than Iron Man 2 we could have a winner anyway and hopefully Thor in done right by Sega, which it is looking he will as the game is looking great. Thor: God of Thunder is scheduled to release in Spring of 2011 for all major consoles. For even more information, you can check out the official website here.