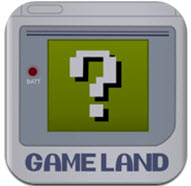 Game Name: Quiz Game Land
Platform(s): iPhone/iPod Touch/iPad (iOS 3.0 or later)
Publisher(s): Undercoders.
Developer(s): Undercoders.
Genre(s): Video Game Trivia
UPDATE Release Date: 15th December, 2010
Price: $1.99 –BUY NOW
The great guys over at Undercoders today have announced that Quiz Game Land has just been updated to version 1.5, featuring major improvements such as musical questions, game center integration, retina display and iPad support.
For anyone that hasn't heard of Quiz Game, check out the description of the game below and also have a look at our review of the game. 
Quiz Game Land is an epic and delirious adventure, plagued with winks and references to the world of video games, in which players can test their knowledge on the industry through intense battles of questions. With 8 mysterious worlds to explore, alternative paths, 4 game modes, challenging mini-games, achievements and leaderboards, detailed retro-style graphics and 3 difficulty levels, Quiz Game Land is the ideal adventure for all video game lovers.
Whats New in version 1.5
-Universal App, with optimized graphics for retina display and iPad
-Open Feint and Game Center integration
-25 new challenging achievements to unlock
-Musical questions: guess the tune!
-Brand new interface design and app icon
-New questions, now over 1000 questions in total!
-Longer lite version with option to unlock the full game
Want more information check out Undercoders Official Website
Teaser Trailer
 Undercoders have made a teaser trailer for the game using hundreds of classic games as dominoes, which they are using also as part of their ongoing contest check it out below :
[pro-player width='530′ height='253′ type='video']http://www.youtube.com/watch?v=f-HaZvHJKTY&hd=1[/pro-player]
We also have a copy of the game for one of you lucky reader.  To win let us know why you would like to win a copy of the game.  Best Entry wins a copy.  *One Entry per person*