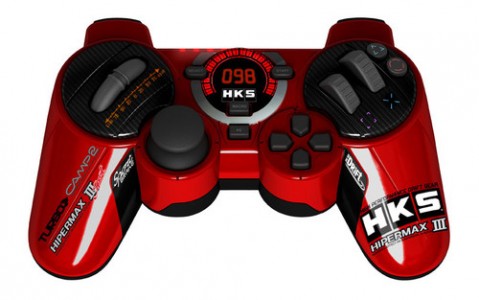 That launch controller you bought with your Playstation 3 might be a little worn out.  In fact, the analog nubs are a little loose and when playing Need for Speed, you realize that it is not your bad driving skills, but the controller that is making you get nabbed by the cops.
Or perhaps you bought your controller used and it smells oddly like incense.  Maybe it smells good, but it still makes your friends laugh.  Hmm, what to do?
Well, you could always buy a new one.  And if you are a fine tuned racing freak, then EAGLE3 has got the right product for you. The HKS Racing Controller features:
A precision control steering wheel with full rotational range for left and right turn control and an automatic re-centering racing wheel.
Analog pressure acceleration and brake pedals allow for solid drifts and real world control.
Digital pressure gauge has light up numerical indicators that measure down to the millisecond.
Exotic design.  Seriously, feast your eyes on that again.  Go on, it is just right up there.
The color red. Red is awesome. And it rhymes with Jed.
Buy the controller now right here or wait for our review which will be coming soon.