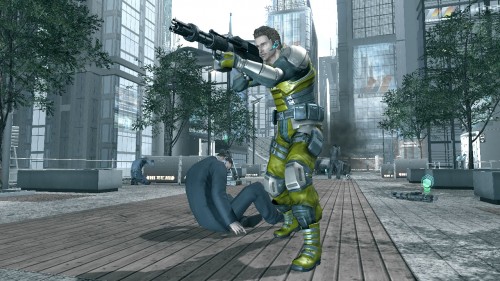 We've heard bits and pieces about MindJack and even seen the trailer which shows that in the future people's minds are nothing but a plaything for hackers as they can hack right into your brain and control your every action. Not only that but other players can even hack into your own world and take control of civilians and soldiers just the same as you can.
Square Enix just announced today that there will also be some pre-order bonuses for those who wish to drop a bit of money a little early. The pre-order bonus is named the Ability Pack and comes free with those who pre-order the game at Amazon, Best Buy, GameStop, or Square Enix themselves. So don't have to worry about any store exclusive bonuses to choose between.
The Ability Pack contains the following and will be yours as long as you pre-order by January 18th when the game releases for the PS3 and Xbox 360:
Elite FIA Soldier Suit: It's a gold uniform for your soldier in the game; you'll look great! (seen above)
Unlimited Dash: Nothing to do with Stacey Dash, unfortunately, this will give you unlimited speed abilities.
Instant High Voltage: Sure, "Wanderer Mode" — which lets you travel as an electromagnetic wave to hunt down your next target — is cool and all. But what if you could dash while doing it? Pre-order now to avoid the disappointment of not being able to!