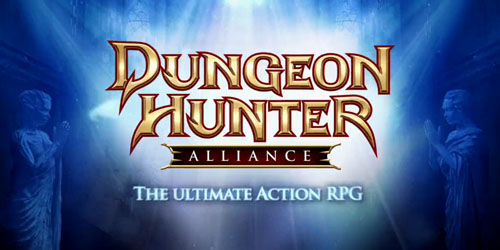 What happens when you take what used to be an iPhone game and upgrade it so that it looks amazing on the PS3? You get Dungeon Hunter: Alliance. Gameloft has announced that they will be bringing Dungeon Hunter: Alliance to the PSN and will allow players to team up with three other heroes to travel through dungeons and defeat monsters to accomplish the quests set for them.
There is even a twist to the game, the whole reason that the world has fallen into such chaos and evil abominations roam the world is because of the Queen. Though the Queen herself was once your main character's love! Interesting to see how the story will take place, but one thing we can tell from the trailer below is that DH: A has a Diabloesque feeling to it. But don't take my word for it, take a peek at the trailer and be ready for Dungeon Hunter: Alliance to be available on the PSN January of next year.
The game itself will have these unique features that are set to take audiences by storm:
A unique multiplayer experience on PlayStation®Network: play locally or with your Friends, or team up online with players across the globe! The game difficulty will adapt to the number of players. Do your training and climb the ranks in the online global leaderboards.
A real quest to complete solo or with others, spanning over 30 levels with an immense world of dungeons, villages and forests to explore, including areas that are randomly generated. Gothicus will never cease to amaze you!
A level of production rarely achieved on PSN: graphics and special effects rivaling retail games, smooth animation even during multiplayer sessions, and a dark gothic ambiance that immerses you in the heart of the action.
All the ingredients for a great role-playing game: choose your class, optimize your hero's development by assigning experience points to the attributes of your choice, and equip your hero with the best armor thanks to the items you collect throughout your adventure.
A fun "hack & slash" gameplay adapted to your preferences: choose between classic controls (with a wireless controller) or innovative controls thanks to compatibility with the PlayStation®Move motion controller to recreate a "point & click" experience similar to PC games.