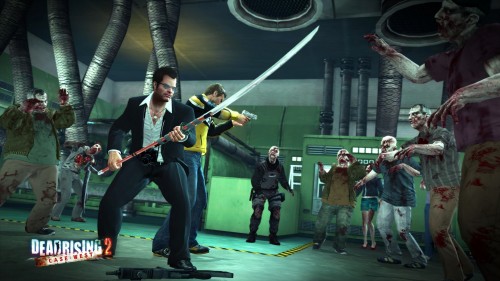 Talk about good but abrupt news huh? Capcom announced today that Dead Rising 2: Case West, which can be seen as an epilogue to Dead Rising 2, will be released next month in December. No actual set date in the month, but it's going to be a good present either way! Also no news of a pricetag, but one can hope that it will retain the price tag of the Case Zero DLC of 400 MSP.
But if you are a bit wary on what they could have added then you don't need to worry because we'll not only seeing Frank West from the first Dead Rising teaming up with Chuck Greene, but we'll see cameo appearances from other characters as well. Will be interesting to see who is still around and fighting against the zombie outbreaks.
Chuck Greene and Frank West will be infiltrating the Phenotrans Facility which is outside of Fortune City and players will be given cameras again. Yep photograph is back. Players will use their cameras not only for the standard picture taking that they grew accustomed to in the first game, but will use them to take pictures of evidence to prove that Phenotrans was involved in the zombie outbreaks. On top of that we are going to see new combo weapons, primarily the Reaper that you can see above and the Zap 'n Shine.
Sounds awesome, but don't take our word for it catch the gameplay trailer below to get your first look at Case West's content.