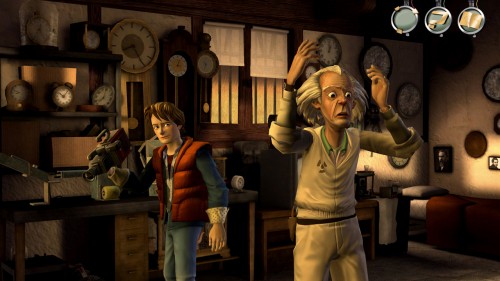 Great Scott! Well you knew that had to be coming eventually, but good news regardless of quoted movie lines. We have a the full list of the release months and titles for the five episodes of Back to the Future: The Game that is being worked on currently by Telltale. The episodic game will be receiving a new episode released almost a month apart from one another and we also now know the names of each episode.
December: "It's About Time" (Episode 1)
February: "Get Tannen!" (Episode 2)
March: "Citizen Brown" (Episode 3)
April: "Double Visions" (Episode 4)
To be announced: "OUTATIME" (Finale)
But that isn't the only good news, we also have a new trailer courtesy of GameTrailers that shows off the game's storyline and also how the game itself will look when we get our first taste of it in December. Other than that however you may notice that Michael J. Fox is not voicing Marty, but thankfully Christopher Lloyd has returned in his role as Doc Brown.