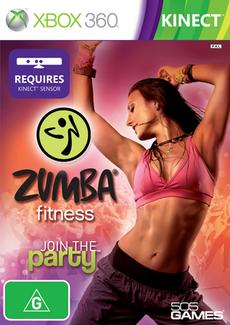 Through invigorating, high calorie burning fitness classes, Zumba Fitness has helped melt the pounds and inches off more than five million Zumba enthusiasts in more than 75 countries. This addictive fitness craze blends Latin and world rhythms with easy to follow dance moves to help fans successfully tone and sculpt the body while burning fat.
Bring the exhilarating Zumba Fitness Party right into your living room! The Zumba program pairs red hot international dance steps with sexy Latin music to create an ultra fun fitness party on your console that's focused on the joy of movement. Follow along as Zumba instructor fan favorites Tanya Beardsley, Gina Grant and Zumbas creator Beto guide you through 30 routines that will make you forget you are even exercising.
This is a must for anyone that wants to really see what the Kinect is capable of doing. 
Zumba Fitness – Join the Party will available in Australia on the 2nd Of December for only $86.99.  Click here to pre-order your copy now from Fishpond – use the code CAPSULEC and receive an extra $10 off your purchase + FREE Delivery !!
Who's gonna ZUMBA with MasterAbbott ??  Add me as a friend on Xbox and lets get the PARTY STARTED !! 😉