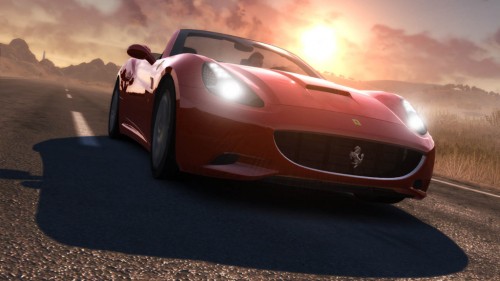 So Gran Turismo 5 is out and all the fans have finally received the game they have been waiting so many years for. But what if you don't like Gran Turismo or find the latest release not to your liking? Then that isn't a problem because Eden Games and Atari will be bringing Test Drive Unlimited 2 to consoles on February 8th. The game had suffered a mild game delay from September of this year to an unknown point in the beginning of 2011. But thankfully we now do have a release date.
We also have a plethora of pre-order bonuses from different stores considering the game was meant to be released two months ago. The most interesting of the pre-order bonuses appears to be the Gamestop pre-order that gives players DLC called Casino which gives players the ability to play various casino games and unlock two special cars. This one definitely seems to be the prevailing pre-order while the other bonuses are only a basic car package. But don't take my word for it you can check out each pre-order bonus in detail below.
Customers who pre-order on Atari.com will unlock the impressive Ford Shelby GT 500. The rebirth of a legend, this reinvented Shelby delivers classically inspired styling and a supercharged engine. The rear-wheel-drive Ford Shelby GT500 is one of the all-time greatest muscle cars ever to hit the pavement. Draped in prestige, and history, tame this masterpiece of modern American muscle and tear up the roads of TDU2.
Best Buy pre-order consumers will be rewarded with the Aston Martin DBS Carbon Black special edition – Aston Martin's ultimate sports car, and a Carbon Black themed apparel item for their avatar. Featuring bespoke Carbon Black metallic paint complimented with gloss black 10 spoke diamond turned alloy wheels and the iconic Aston Martin side strake fashioned from carbon fibre. Customers will also receive a piece of exclusive Avatar apparel to compliment their new ride. Best Buy Reward Zone members also receive a significant bonus in reward zone points with their TDU2 pre-order.
Atari fans that pre-order from Direct 2 Drive will receive the Jaguar XKR with Speed Pack and Black Pack. The XKR speed pack increases maximum speed from 155 mph to an awe-inspiring 174 mph. In addition, the Black Pack is a sleek, black custom package that includes a unique, aerodynamic body kit with front splitter and larger rear spoiler, body colored rear signature blade and diffuser, side sill extensions, gloss black front grilles, air intakes and 20″ Kalimnos gloss black alloy wheels. An "XKR" side graphic has also been added. Pre-order customers will receive an exclusive shirt for their avatars that compliments the jet black cloth seats, steering wheel, shift knob and center console.
The TDU2 Casino Online is a fully functional add-on product for Test Drive Unlimited 2, this valuable game mode is available as a pre-order bonus exclusively to GameStop customers. Unlock this fully interactive in-game environment to play popular casino games, meet up with friends, and more. Players who master the table games in the casino can unlock TWO unique vehicles, the Audi R8 Spyder and the Spyker C8 Aileron Spyder. Casino owners can even win additional money to spend on your cars, properties, and avatar in the world of Test Drive Unlimited 2.
Pre-orders at K-mart will unlock the Ferrari 612 Scaglietti. The design, especially the large side scallops and the headlights, pay homage to the custom 1954 Ferrari 375 MM that director Roberto Rossellini had commissioned for his wife, Ingrid Bergman. The car is capable of speeds up to 196 mph and can reach 60 mph in just 4.2 seconds. This grand tourer is unique as a true 4 seater with adequate space in the rear seats for two adults. Only sixty of these rare masterpieces were built (60 units) to commemorate the 60th anniversary of the company.
Steam pre-order customers receive the special edition Pagani Zonda Tricolore. The Pagani Zonda Tricolore is a high end performance coupe produced in extremely limited numbers by revered Italian manufacturer, Pagani. The ultra-exclusive Zonda Tricolore is both a savory treat and a spectacular sports car, built to commemorate the 50th anniversary of Italy's Frecce Tricolori, the nine-plus-one aerobatic training squadron based at Rivolto Air Force Base in northern Italy. Steam customers will also receive a stylish pullover to wear when driving this exclusive masterpiece, highlighting the unique design features and striking coloring of the Zonda Tricolore.
Walmart.com pre-order customers will receive the Bugati Veyron Supersport 2010. This beloved supercar has been clocked as one of the fastest production vehicles in the world, setting a previous street record at 267.86mph. The Supersport packs an impressive 1200 HP that can launch this fireball from 0 to 60 in 2.2 seconds