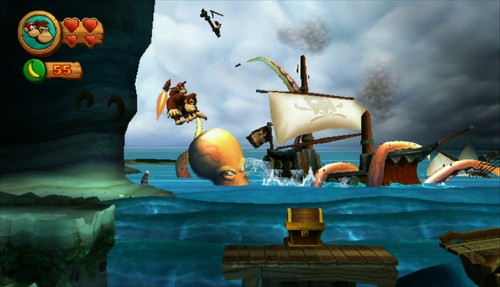 Is it a bird? Is it a plane? Nope it's Super Kong! Or at least that is what we will be seeing if we happen to be having a lot of trouble in Donkey Kong Country Returns. Nintendo has included the Super Guide into the game to help characters when they are having trouble with a certain level, and if they are to die eight different times on one level then Super Kong will be available for use.
Super Kong, who appears as a blue tie wearing silver furred gorilla, will give players an option after their eighth death to let Super Kong help out. Super Kong will be computer controlled and will head through the level until the player decides that they want to take over. While this may seem like a cheap way to get through a level without even giving it a try, any collectibles or bananas will not be collected, nor will any secret shortcuts, or secrets themselves will be revealed. There will even be a mark on the main map in the form of a red dot that shows that players haven't beaten it on their own.
This is similar to what players were able to experience in the New Super Mario Brothers by having Luigi run through the level instead and let players sit back and watch. It's nice that Nintendo has put this Super Guide into effect so that it gives players the chance to continue on with the game if they are stuck, and since it doesn't benefit them with collectibles or secrets then there isn't even any harm done for those of us worried about a hard platforming experience.